Mohammed, HSBC chief discuss economic recovery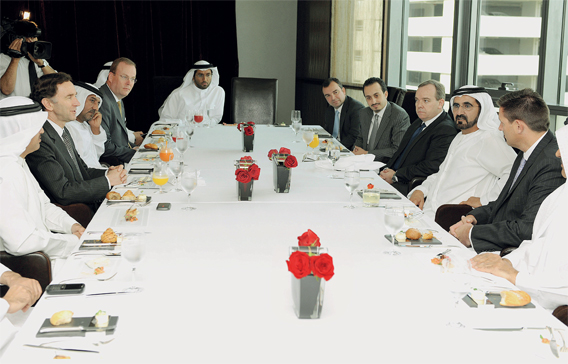 His Highness Sheikh Mohammed bin Rashid Al Maktoum, Vice-President and Prime Minister of the UAE and Ruler of Dubai, yesterday met Chairman of HSBC Holdings Stephen Green at Dubai Internat-ional Financial Centre.
They reviewed the global economic situation and the factors that encourage the financial institutions to be optimistic about economic growth, though at smaller rates, in the near future. They discussed co-operation between the British banking group and UAE institutions.
Sheikh Mohammed welcomed the presence of global banking and financial institutions in the UAE, describing them as active partners in the process of building a cohesive national economy and moving the wheel of investment growth in the country and the region.
Green praised the huge support enjoyed by Dubai World from government bodies that led to its debt restructuring, which preserved the interests of debtors both inside and outside the country, with no discrimination or injustice to the rights of any. He said the restructuring was praised by international financial bodies. Green expressed his confidence in the UAE economy, its sound investment environment and position as a gateway to Mena markets.
Follow Emirates 24|7 on Google News.