UAE to grow by more than 3% in 2011, says report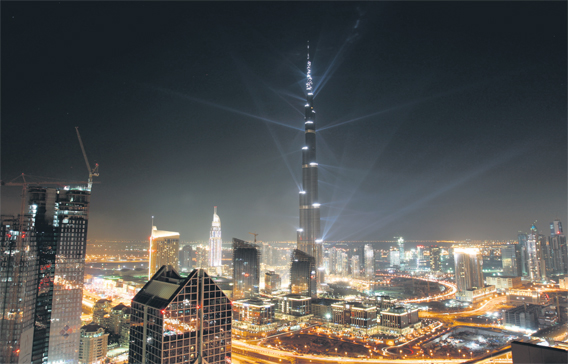 The UAE economy, the second largest in the Arab World, is projected to grow by less than one per cent in 2010 before leaping by more than three per cent in 2011, a key Saudi investment firm said yesterday.
An expected increase in the country's oil production will trigger the 0.9 per cent real growth in 2010 as it will expand the hydrocarbons sector by around two per cent, said NCB Capital, owned by the Saudi National Commercial Bank.
The non-oil sector will edge up by only about 0.2 per cent this year, mainly because of a downturn in the real estate sector and other factors, it said.
In 2011, real GDP is forecast to sharply rebound by nearly 3.1 per cent and pick up by around 4.1 per cent in 2012, NCB Capital said.
Nominal GDP will likely record much higher growth of around eight per cent this year and 11 and 12 per cent in 2011 and 2012 respectively.
A breakdown of figures showed the UAE's real non-oil GDP would grow by 3.7 and 4.1 per cent in 2011 and 2012 while the oil sector could expand by 2.2 and 4.2 per cent.The UAE, whose GDP is second only to Saudi Arabia in the Arab World, has not yet published official data on its 2009 economy but in recent statements, Minister of Economy Sultan Al Mansouri rebuffed projections by the IMF and other regional and global institutions that there was a contraction last year.
Recent estimates by the government-controlled Emirates Industrial Bank (EIB) showed the UAE's non-oil GDP surged by around 5.2 per cent in current prices last year, offsetting a sharp cut in the country's crude output.
From around Dh590 billion in 2008, the non-oil sector's contribution to the nominal GDP swelled to nearly Dh621 billion in 2009.
The EIB gave no exact figures for the hydrocarbons sector, but graphical estimates in its economic bulletin showed its contribution to the GDP fell by around 6.9 per cent to nearly Dh320bn in 2009 from around Dh344bn in 2008.
Despite the plunge in the oil sector because of lower output and prices, the UAE's nominal GDP grew by 0.8 per cent to Dh942bn last year from about Dh934bn in 2008, according to EIB.
The UAE's real GDP recorded one of its highest growth rates of 7.4 per cent in 2008 to cap nearly seven years of strong growth during the oil boom.
Follow Emirates 24|7 on Google News.