Nepal to ban dowry and end untouchability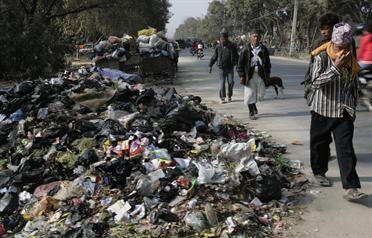 Nepal's beleaguered Maoist Prime Minister Prachanda vowed on Sunday to ban the dowry system and criminalise untouchability, in an apparent bid to win popular support as problems mounted for the new government.
Pushpa Kamal Dahal, who goes by his war nom de guerre which means 'fierce one', became prime minister after elections last year that ended a decade-long civil war.
The Maoist leader and former guerrilla leader has vowed to create a 'new Nepal' through radical social and economic reforms.
But Prachanda is now criticised for doing little to provide relief to people, nearly one-third of whom still live on less than a dollar a day, and launch any social or cultural reforms.
"I agree that the government has not been able to live up to the popular expectations," the bespectacled Prachanda said in a televised address to the nation.
"The government will ban the dowry system and any one providing dowry or receiving it will be liable to be punished," he said in Nepali.
"Necessary laws will be prepared to end this practice of untouchability," Prachanda said.
Many high caste Hindus in the remote villages still do not allow those considered to be lowest in the caste system to collect water from the same source or allow them to worship at temples.
Prachanda said the government would implement plans to end or "significantly reduce" crippling power cuts of up to 14 hours a day by July. The power shortage has sparked several anti-government protests.
Hours earlier a powerful bomb ripped through a small town in southeast Nepal killing one person and wounding three others, a sign of deteriorating law and order in a country just emerging from a decade-long civil war in which more than 13,000 died.
The bomb went off in Rautahat district in southeastern plains bordering India, a troubled region where more than a dozen armed groups are fighting for greater regional autonomy. 
Follow Emirates 24|7 on Google News.