Britain's 'third party' tops shock poll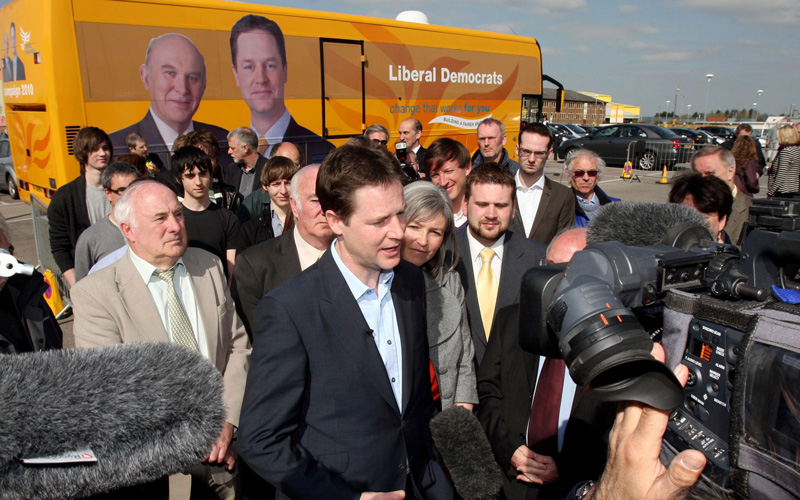 Britain's Liberal Democrats, normally the country's third-largest party, has soared so far up in the opinion polls that one even placed them on top Sunday, weeks ahead of the May 6 election.
The surge in support for the Liberal Democrats follows what commentators and surveys found was a strong performance by their leader Nick Clegg in Thursday's first ever televised election debate between Britain's party leaders.

A BPIX poll in The Mail on Sunday newspaper put the Lib Dems up 12 percent over the past week to 32 percent, with the Conservatives down seven at 31 percent and Labour down three at 28 per cent.
BPIX surveyed 2,149 people over Friday and Saturday.
Such figures make a hung parliament and a rare coalition government seem even more likely.
Under Britain's electoral system, such a result could see Prime Minister Gordon Brown and his governing Labour Party end up in pole position -- despite coming third in the popular vote.
The BBC's seat calculator said those figures would still put Labour on 276 seats -- 50 short of a majority; the Conservatives on 226 and the Lib Dems on 119.
Clegg said "something exciting is happening" in the British political system, which has seen the Conservatives and Labour trade power for the best part of the last 100 years.
"A growing number of people are just starting to believe that we can do something different this time," he told Sky News television.
"I think a growing number of people are starting to hope that real change and that real fairness is finally possible in Britain."
The main opposition Conservatives -- consistently leading in the polls for more than two years -- now face a major fight to stop the crucial floating voters they need from switching support to the Lib Dems.
Conservative leader David Cameron urged voters to give his centre-right party a "decisive" mandate to tackle Britain's huge debt.
"Is another five years of Gordon Brown going to get that job done? He's had 13 years and he is making things worse," Cameron told activists in Gloucester, southwest England.
"Is a hung parliament going to get that job done? A hung parliament would be a bunch of politicians haggling, not deciding.
"They would be fighting for their own interests, not fighting for your interests. They would not be making long-term decisions for the country's future, they would be making short-term decisions for their own future."
Conservative finance spokesman George Osborne said while Clegg had put in a "good television performance", the Lib Dems would now face the "real scrutiny of their policies they have avoided for so long".
Other newspaper polls showed a huge leap in Lib Dem support.
A YouGov poll in The Sunday Times put them up 11 points over the week, reaching 29 percent -- their highest for nearly 30 years, the broadsheet said.
The Conservatives dropped seven points to 33 percent, with Labour down two points to 30 percent. YouGov questioned 1,490 people on Friday and Saturday: after the leaders debate.
ICM research for The Sunday Telegraph newspaper put the Lib Dems up seven points since Tuesday, on 27 percent, with the Conservatives on 34 percent and Labour on 29 percent. ICM questioned 1,033 peopled over Wednesday and Thursday.
And a ComRes poll of 1,006 people for the Sunday Mirror/Independent on Sunday showed the Liberals up eight percent to 29, the Conservatives on 31 and Labour on 29. It was carried out Friday and Saturday.
BBC political research unit editor David Cowling said the polls showed an "extraordinary shift" in Lib Dem support.
"We have no historical comparisons to help us judge whether this turbulence will now dominate the campaign, or whether on polling day far fewer people change their votes because of the debates than say they might now," he added.
Besides touring the country as usual, the party leaders will spend the week sharpening up for the next television debate, on the Sky News channel on Thursday.
The 90-minute clash will be held in central England and focus on economic affairs.
Follow Emirates 24|7 on Google News.