Medvedev wants to 'perfect' terror laws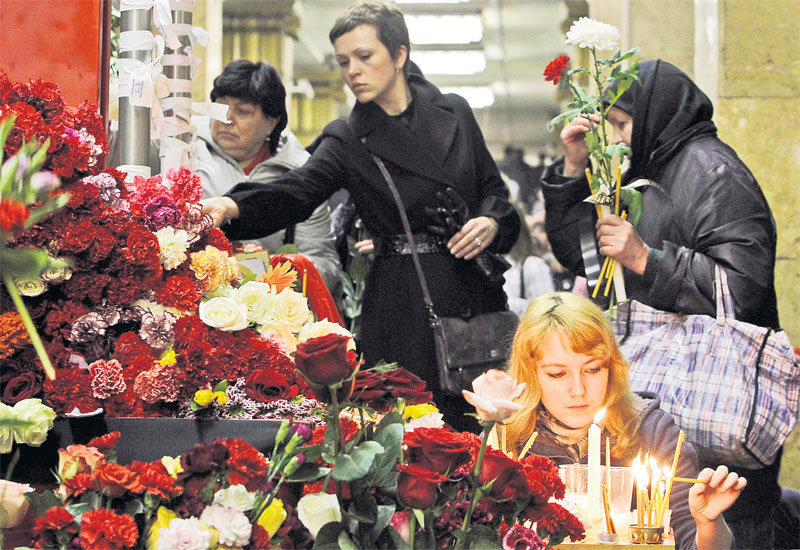 Russians are nervously returning to subway stations where two suicide bombers killed 39 people, lighting candles and leaving heaps of carnations at one site as the country began a day of mourning.
Many have speculated that the blasts, blamed on North Caucasus rebels, were retaliation for the recent killing of separatist leaders in the region by Russian police.
As public outrage swells, the upper house of parliament is proposing bringing back the death penalty for such crimes, a lawmaker was quoted as saying. Medvedev called on the Supreme Court and the High Court of Arbitration to propose ways to "perfect" terrorism laws.
Russian police were yesterday hunting for clues from the North Caucasus over the origins and identities of the two female suicide bombers.
All that remained of the two women were mutilated body parts.
The popular Life.ru news website published grainy but grisly photographs of what it said were the severed heads of the two women's corpses, which were now the prime evidence in the police investigation. It quoted a morgue source as saying the Park Kultury bomber was aged between 20-25. But beyond their gender, no official information over the backgrounds of the women has emerged.
The female bombers sent a chill of horror across Russia, recalling the dark days less than a decade ago when women dubbed the "Black Widows" carried out a string of deadly suicide attacks.
The "Black Widows" name came about as many of the women were found to have been relatives of men killed by Russian forces in operations in the North Caucasus and became suicide bombers to exact revenge.
Human rights groups have repeatedly criticised Russian police action in North Caucasus.
Follow Emirates 24|7 on Google News.