Death verdict for boy's murderer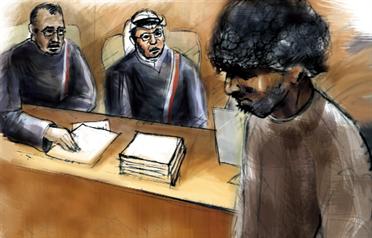 This was the quickest death penalty verdict ever pronounced by Dubai courts. Emirates Business has learnt that the sentence was pronouned within a month and after four hearings. The defendant was also sentenced to six months in jail for alcohol consumption.
AO heard the sentence stoically, read out in court in his presence. He looked pale and tired but seemed resigned to his fate,  showing no reaction to the verdict. The victim's father, uncle and six-year-old brother, also present, broke down crying bitterly on hearing the judgement.
Earlier, Emirates Business noticed other under-trials avoiding RO in the room where they were all kept before being produced in court.  Capital punishment is usually given in Dubai for what court sources described as "intentional killing". The condemned is shot according to police regulations. The last execution took place in Dubai in 2003.
Executions are carried out at the end of all judicial procedures, including proceedings at the appeals and cassation courts, and after securing endorsement by the Ruler of Dubai.
The sentence can be appealed within 15 days at the Appeals Court. This court will now have to provide AO a lawyer after his counsel, Mohammed Al Saadi, who had volunteered to defend him, said: "It is better another lawyer is assigned to defend my client in the remaining legal procedures."
At an earlier session, the court heard the testimony of three doctors: Mohammed Hassan, Mohammed Shahda and Adel Karani. They said the defendant's medical examination took about five hours, including one hour in which he was subjected to discussions and observation, and four hours in which psychological analyses were conducted on him.
They said the examination confirmed the defendant was of normal intelligence with sound mental powers, and was fully aware of his actions while committing the crime.
Al Saadi had argued that the defendant had had a miserable childhood after his mother's death and ill-treatment from his step-mother which left a harmful impact on his mental health.
Medical experts though dismissed these as insufficient grounds to justify his murderous act. They also ruled out AO's history of drug and alcohol addiction could have affected his mind.
COURT CASES
- SM, a Jordanian marketing manager, 28 and British SS, 30, charged with consuming hashish should be let off lightly as this was their first offence, Dubai Criminal Court heard yesterday. The two were arrested on October 6 and jailed. The case is adjourned to February 10.
- A 53-year-old UAE national, SM, denied threatening his ex-wife and two sons who asked him for alimony of Dh28,000. Dubai Criminal Court released him after impounding his passport yesterday.
Follow Emirates 24|7 on Google News.
A 30-year-old UAE national, AO, was sentenced to death by the Dubai Criminal Court yesterday for sodomising and murdering a four-year-old Pakistani boy, MM.