Is this gem the best school on the planet?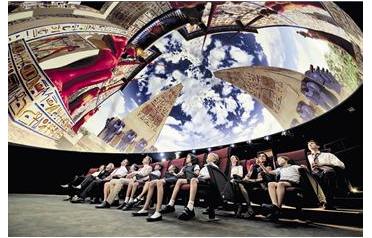 Only a few years ago, the best a pupil could expect from their education almost anywhere in the world would be copies of ageing and dog-eared textbooks and out-of-date sports equipment.

But today's students – and their parents – are more discerning than ever before and require the absolute best schooling their dirhams can buy.

In Dubai, where the "anything is possible" ethic was seemingly created, a Dh200 million school – although "school" really doesn't cover it – is about to open its doors to its first intake of students.

Gems World Academy, housed in a big, blue building in Al Barsha South, obviously features an environment designed to engender academic study.

But, moreover, the school has its own planetarium and 50m, Olympic-size swimming pool, so certainly science lessons and physical education will never be the same again.

Officials are adamant the World Academy will raise standards in education in the UAE, and raise the bar on what is considered a 21st century school.

Also open to members of the student body, once they step through the airy reception area, are a number cafés, a roof-top garden and an amphitheatre.

Students will have access to TV, radio and recording studios, as well as a floodlit football pitch and running track.

Also on the school's roof are five tennis courts and a skate park, while inside there will be a sports hall with retractable seating, a gymnasium and two squash courts.

Gems World Academy also has a 650-seat auditorium to host (no-doubt) lavish school productions as well as family movie nights featuring a refreshment counter for must-have buckets of popcorn.

The World Academy, designed by architects and interior designers CPG of Singapore, is to adopt the International Baccalaureate curriculum (it is a candidate school).

Stuart Dennis, Gems World Academy Executive Principal and CEO, said the school would become a community for parents and students – and would not solely be about a students' grades.

"If you look at traditional education, it is based on the outcome of exams," he told Emirates Business during a tour of the school. "Parents enrol their child and hope they get As and Bs for a place at university. But we go far beyond standard education and grades, with strong components from arts education and sports.

"The way we plan the school day is through immersive learning – a chance to learn before and after school."

Gems World Academy will have a breakfast club where parents can meet teachers before they each head off to work, and there will also be after-school clubs. "Yes, there is a 50m swimming pool but we want to implement this as well as the facilities for arts sciences and languages. By doing that we will exceed the standard," said Dennis.

The swimming pool will have six shaded lanes and there will be a neighbouring 12m by 6m learners' pool.

The planetarium, which seats 70, is capable of not only showing the constellations on its dome but 360-degree videos.

Andy Gregory, Planetarium Director, who worked at the National Space Centre in Leicester, United Kingdom, said: "We talk about children growing up to be global citizens but we live in the universe and essentially it explains to the children that things are on a much larger scale.

"We should care for our planet because we know of no other that can support us. It gives students another, broader, perspective. This puts the children in a unique club, as I don't know too many universities that have a planetarium let alone a school."

Students aged three to 16 will be among the first to arrive through the doors on September 1. So far 620 have enrolled out of 755 capacity. A high school building is due to open next year to accommodate students up to the age of 18, and that will take the capacity of the school to 1,100.

The school will also have learning resource centres and a central library containing more than 15,000 titles.

"The facilities and the teaching become integral to our wraparound school day," said Dennis. "The curriculum supports the idea of global citizenship."

But world-beating facilities at Gems World Academy do not come cheaply. Fees range from Dh53,000 to Dh92,000 per year.

"It's probably the best value school for what you get," said Dennis. "It offers excellent facilities and offers professional development for its teachers."

Teachers at the school will have a dedicated library and study area away from the students, plus facilities to host other Gems teachers for presentations and lectures. The school will also have its own team of researchers, which can aid staff to develop certain areas of their classroom-based teaching.

"Our teachers will identify key issues that children need to improve on, and will look at what motivates students – what's it like to be an 11-year-old?" said Dennis.

Dr Clifton Chadwick, senior lecturer in the faculty of education at the British University in Dubai, said the benefits of a International Baccalaureate (IB) education were manifold.

"First of all, the IB is a well recognised very high quality curriculum," he said. "Students have a broader scope of knowledge.

"Students are much more equipped at problem solving and creativity and not just memorisation. That, for any university, is very good. They have much better probability of successfully completing university education and come in much more robust and prepared," said Chadwick.

Jameela Al Muhairi, Chief of Dubai Schools Inspection Bureau, said: "The International Baccalaureate curriculum offers high-quality, dynamic and accessible education that fits within the dynamic and active lifestyle Dubai is witnessing.

"One of the many benefits of this system is that IB students can freely move from one school to another worldwide. Also, IB graduates can easily apply to any of the internationally recognised and most reputed universities worldwide."

Gems World Academy sits on land between Al Khail and Emirates roads. Dennis believes this will be a central location in coming years. "It's an absolutely fantastic location," he insists.

"It feels isolated at the moment but since we have been here they have built 200 villas nearby. It is 10 minutes from Sports City, 10 minutes from The Palm Jumeirah, 10 minutes from Mall of the Emirates," said the chief executive of Gems World Academy.

There are five other schools in Dubai which follow IB curriculum including Emirates International School, Meadows; Emirates International School, Jumeirah; Dubai International Academy, Deira International School and Uptown School Mirdif.
The International Baccalaureate
International Baccalaureate (IB) is an international non-profit educational foundation, founded in 1968 in Geneva, Switzerland. There are more than 651,000 IB students at 2,390 schools in 129 countries.

The organisation administers three programmes for elementary, middle, and high schools, which provide schools with an international curriculum intended to be acceptable to universities around the world.

The IB curriculum was originally designed to insure a "cohesive, comprehensive education for students", no matter which country they live in.

Today, that goal is still at the forefront of the IB mission and students who complete the programme are prepared, not only for success at college, but for success in academic life in general.

Students gain a broader world view,, follow in-depth approaches to the academic disciplines, and develop time-management, problem-solving, research, and organisational skills.
Follow Emirates 24|7 on Google News.