Khalifa praises Mohammed's leadership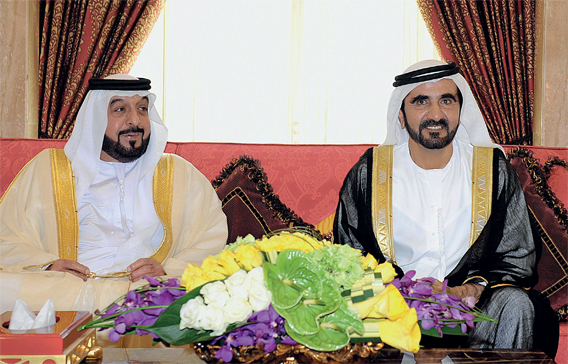 President His Highness Sheikh Khalifa bin Zayed Al Nahyan has praised the leadership of His Highness Sheikh Mohammed bin Rashid Al Maktoum, Vice-President and Prime Minister of the UAE and Ruler of Dubai, and expressed his appreciation for the work carried out by the Federal Government between 2006 and 2009.
Sheikh Khalifa's comments came after the submission of a report by Sheikh Mohammed covering the policies, initiatives and work carried out by the government during 2006-2009 to ensure the welfare of citizens and boost prosperity and stability of the country.
The report underlines the efforts undertaken to improve the standard of living reflect the government's perseverance, clarity of vision and sound planning.
It shows that these successes are the result of the government's decision to adopt an overall strategy as a framework for action and as an impetus for directing its programmes and policies.
Sheikh Khalifa noted the key role played by Sheikh Mohammed in leading ministers and setting the right tone to achieve integration and harmony between all stakeholders in the national action plan.
He went on to commend the government for the great strides taken in social and economic development, especially in extending the provision of services to remote areas around the country.
Sheikh Khalifa stressed that these efforts deepen the government's commitment towards its people, who are its most precious resource.
The scientific approach taken by the government in planning and implementing its initiatives had a profound impact on its performance and success, he said. Sheikh Khalifa also said that the decision to base the headquarters of the International Renewable Energy Agency in the UAE was an additional evidence of the strong presence and respect that the country commands internationally, as a result of its diplomatic efforts. This accomplishment represents a remarkable development in UAE foreign relations, while underscoring the nation's commitment to environmentally sustainable policies, he added.
After noting how advances in the UAE's defence systems have enriched the security of the country, Sheikh Khalifa praised the government's efforts to stabilise the labour market and address the demographic imbalance, which is one of the focal points of the national action plan.
Sheikh Khalifa thanked Sheikh Mohammed for the report titled 'Four Years of Achievements', saying that it confirms the government's commitment to transparency and clarity.
He urged Sheikh Mohammed and the government to continue to embrace the team spirit, which has characterised their work, for the benefit of the homeland and its citizens.
Follow Emirates 24|7 on Google News.