Mohammed urges use of new book for planning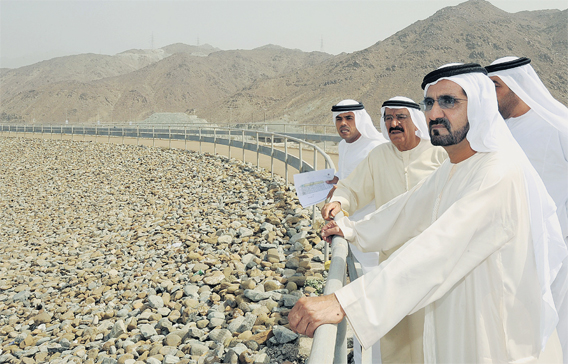 In the preface of a new book issued by the UAE Government, Four Years of Achievements, His Highness Sheikh Mohammed bin Rashid Al Maktoum, Vice-President and Prime Minister of the UAE and Ruler of Dubai, urges readers to learn from the government's success.
Sheikh Mohammed also reminds readers that the past four years were not only filled with achievements, but there were also many challenges to overcome through hard work, which reflects positively on the country and its people.
The book comes at a time when the UAE, under the leadership of President His Highness Sheikh Khalifa bin Zayed Al Nahyan, Ruler of Abu Dhabi, is experiencing unprecedented growth in all fields, backed by the large number of government initiatives and achievements. While documenting the accomplishments of the federal government from 2006 to 2009, under the stewardship of Sheikh Mohammed, the book also sheds light on the role of the government, its services and programmes.
Comprising seven chapters, the book focuses on the areas of social, economic and government sector development, in addition to exploring the country's foreign policy, national security, justice, infrastructure and healthcare.
In the preface, Sheikh Mohammed reminds readers of the importance of achieving the objectives of the national development programme. These include empowering the UAE and its people by raising the standard of living.
The book can be downloaded from the UAE Prime Minister's website and the UAE Cabinet website.
Four years of achievements: Sheikh Mohammed's excerpts from the book
The past four years were not only full of achievement but also of challenges, most prominently the global financial crisis which affected all economies of the world. The government managed to deal with the crisis with efficiency.
The citizen has always been the axis of policies and projects of the state and its wise leadership. And the state has not for one day been late to make every effort for the development of society and the citizens of the Emirates.
We have an advanced legislative infrastructure and our economy is strong and diversified. Our resources are abundant and our financial system is efficient. We have a basic infrastructure that matches the highest levels in the world. We have accumulated expertise that is highly important and a well-entrenched business network throughout the world…what we have achieved over the past ten years would require twice the amount of time for others to achieve.
The foundation of the foreign policy of the UAE since its inception has been the establishment of cooperation with all countries of the world, on the basis of mutual respect and balanced interests, peaceful co-existence, non-interference in others' affairs, rejection of violence and solving differences by dialogue and diplomatic means.
Follow Emirates 24|7 on Google News.