Region's conservation efforts applauded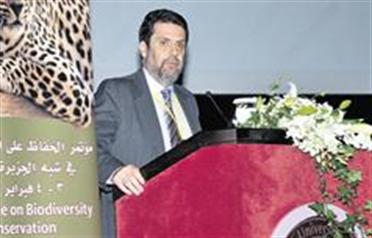 The GCC countries are extending remarkable efforts to save many species from becoming extinct due to different natural and man-related environmental changes, said Dr Simon Stuart, Chair of the Species Survival Commission, International Union for Conservation of Nature (IUCN).

He spoke of the IUCN's 'red list' and the various threatened species listed therein during the First International Conference on Biodiversity Conservation in the Arabian Peninsula held at the American University of Sharjah end of last week.

The conference was held as the United Nations marks 2010 as the International Year of Biodiversity.

"The Arabian Peninsula has seen massive economic, social and environmental change in only the last 50 years. The pace of this change had negatively affected the wildlife at these countries. However, the status of some species in the Gulf is better than in the globe,"?he said.

In a bid to further improve the status the existing wide variation in the status and provisions for wildlife conservation across the region it is important to share experiences and data among countries of the region. And, there remains great scope for further international cooperation to enhance conservation management and achieve shared objectives, he said.

Talking about the geographic distribution worldwide of threaten species including birds, mammals, corals, and amphibians he said that the situation at the South East Asia is the worst.

Monitoring the biodiversity trends since 1980 of birds, mammals, corals, and amphibians in the glob, the state is worsening a year after another, he said.

Comparing the status of certain species in the Arabian Peninsula region to their status globally, Dr Staurt said that mammals are doing better in the Arabia .

Data show that only one per cent that are extinct, one per cent critically endangered, four per cent are endangered, nine per cent vulnerable, five per cent near threatened, 70 per cent least concern, and 10 per cent data deficient. While the Global figures show that one per cent are extinct, three per cent critically endangered, eight per cent are endangered, nine per cent vulnerable, six per cent near-threatened, 57 per cent least concerned and 15 per cent data deficient.

The status of birds, amphibians, corals, conifers and carnivores are also better in the Arabian Peninsula than in other places in the world.
Keep up with the latest business news from the region with the Emirates Business 24|7 daily newsletter. To subscribe to the newsletter, please click here.
Follow Emirates 24|7 on Google News.