Traffic accidents, casualties drop by 10%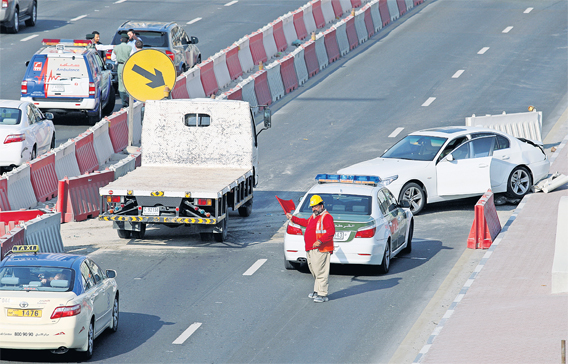 The number of traffic accidents in the UAE and the level of related casualties have both fallen by more than 10 per cent in the past two years due to safety campaigns, tougher regulations and higher penalties.
According to the Traffic Directorate at the Ministry of Interior, the major contributor to the drop in accident rates was the implementation of the Federal Traffic Law in 2007. The law set more severe penalties and introduced the black-point system, which can lead to the licences of drivers being cancelled.
"The mortality rate dropped by 10.7 per cent from March 2008 to March 2010, which is a tremendous achievement," said Brigadier Ghaith Al Za'abi, Director General of the directorate. "There was a drop of 16.8 per cent in the number of pedestrians run over, 6.36 per cent in collisions and 3.59 per cent in cases where vehicles turned over.
"The number of fines for traffic violations fell by 33.9 per cent. The drop in violations is a great achievement and hopefully these numbers will decline further."
He said other factors that had boosted safety included a crackdown on bad driving and the deployment of more radar units and patrols. Al Za'abi said a plan to offer incentives to good drivers was being developed and there would be more safety campaigns patrols on major highways and city streets.
Follow Emirates 24|7 on Google News.