Travel routes and credit cards of suspects traced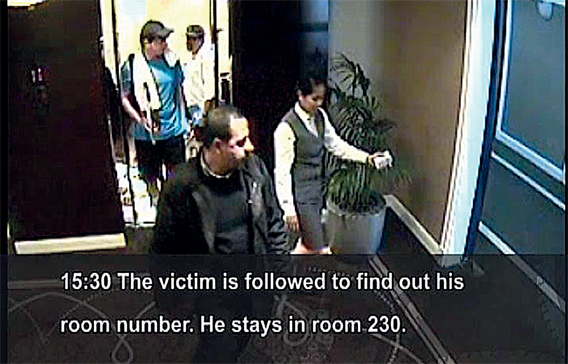 A detailed description of the travel routes used by the gang suspected of murdering Hamas leader Mahmoud Al Mabhouh was released yesterday by Dubai Police.
The list describes the suspects' movements before and after the killing as they gathered in Dubai, then dispersed to various locations before meeting up again and finally heading off to other destinations.
The revelations were made as the police named a further 15 suspects believed to have been involved in the murder at the luxury Al Bustan Rotana hotel in the city last month. An earlier list identified 11 suspects and the new names increased the total to 26.
In another development, investigators have tracked down credit card accounts used by 14 of the suspects. The cards, issued by Meta Bank, were used to book hotel rooms and pay for air travel.
The suspects named yesterday included British passport holders Daniel Marc Schnur, Gabriella Barney, Roy Allan Cannon, Stephen Keith Drake, Mark Sklur and Philip Carr.
Also on the list were Irish passports holders Ivy Brinton, Anna Shuana Clasby and Chester Halvey, French passport holders David Bernard LaPierre, Melenie Heard and Eric Rassineux and Australian passport holders Bruce Joshua Daniel, Nicole Sandra Mccabe and Adam Korman.
Yesterday's list raised the total number of suspects who used British passports from six to 12, the number using Irish passports from three to six and those with French passports from one to three. A German passport holder was named earlier this month.
"Friendly nations who have been assisting in this investigation have indicated to the police in Dubai that the passports were issued in an illegal and fraudulent manner and the pictures on the travel documents did not correspond to the original owners," said a police spokesman. "The new list of suspects includes people who offered prior logistical support and preparations to facilitate the crime and others who played central roles."
Investigators have not ruled out the possibility that others were involved and are still conducting a wide search and reviewing other links to the case.
"All the suspects will be pursued to stand trial for this crime as the evidence shows their involvement in preparations, planning, logistics, surveillance, technical support and the actual killing of Al Mabhouh.
"Dubai Police are issuing this information as part of its efforts to remain transparent and have done so only after the evidence was checked thoroughly and accurately.
"The safety and security of the UAE, its people, residents and visitors are a red line that should not be crossed and those who meddle in the security of this country will be dealt with strictly and according to the law. The UAE will never tolerate the violation of its sovereignty or allow external forces to settle scores on its territory no matter what their ideology is."
The spokesman said the force would continue its investigation with the full co-operation of security authorities in other countries and international bodies. The suspects would be pursued and put on trial through legitimate procedures and international regulations.
Agents from Israel's Mossad intelligence agency are widely suspected of being responsible for Al Mabhouh's murder.
Timeline
JANUARY 18
- Members of a suspected hit squad begin to arrive in Dubai and spread out to various hotels in the city.
JANUARY 19
- Mabhouh arrives in Dubai from Damascus at 3.20pm, a stopover on a journey that was meant to take him to Sudan and China.
- Suspected members of the hit squad follow Mabhouh to a luxury hotel, where he checks in under an assumed name.
- Two suspects in tennis gear follow Mabhouh into the hotel lift to make note of his room number, after which another calls the hotel to book the room opposite.
- Mabhouh goes out to two of Dubai's malls, has a meal and buys a pair of shoes.
- Suspected hit squad members enter Mabhouh's room while he is out.
- Mabhouh returns to his hotel room at 8.25pm.
- Less than 10 minutes later, the suspects are seen leaving his room.
- Fewer than 10 minutes pass before some suspects leave the hotel for the airport, boarding flights to destinations, including Germany, France and Hong Kong.
JANUARY 20
- Mabhouh's body is found by hotel staff.
n Hamas' political leadership issues a statement saying Mabhouh died of a sudden illness, while its military wing says Mabhouh died of a sudden health setback "the causes of which we are investigating".
JANUARY 28
- Mabhouh's body is returned to Damascus.
JANUARY 29
- Mabhouh is buried at a Palestinian refugee camp outside Damascus. Thousands of mourners attend his funeral.
- A senior Hamas official says Israel killed Mabhouh in Dubai. Dubai police say they cannot rule out Mossad's involvement and say most of the suspects had European passports.
- Mabhouh's brother says he died of strangulation after receiving an electric shock.
FEBRUARY 15
- Dubai police say they are seeking 11 suspects with European passports and publish closed-circuit video of the suspected killers. Two Palestinians are in custody, suspected of providing logistical support.
FEBRUARY 16-17
- Seven foreign-born Israelis who shared names with suspected members of the hit squad deny involvement and say their identities have been stolen.
- Israel's foreign minister says use of those identities by hit squad not a proof of Mossad's involvement.
FEBRUARY 18
- Britain and Ireland summon Israeli ambassadors over the use of fraudulent British and Irish passports. Britain urges Israel to co-operate fully with its investigation.
FEBRUARY 20
- A Hamas official tells a Jordanian newspaper that the movement has launched an investigation to try to discover "how Mossad was able to carry out the operation".
FEBRUARY 22
- The European Union condemns the use of fraudulent EU passports. EU foreign ministers said the killing was "profoundly disturbing" and that its citizens' rights had been violated.
FEBRUARY 23
- The UAE identifies four more suspects who carried fraudulent British and Irish passports, and says the cause of death was ruled as suffocation.
FEBRUARY 24
- Dubai Police identify 15 more suspects in the killing, bringing the total to 26, and say they believe more people may have been involved. (Reuters)
Keep up with the latest business news from the region with the Emirates Business 24|7 daily newsletter. To subscribe to the newsletter, please click here.
Follow Emirates 24|7 on Google News.