Israel restricts access to Al-Aqsa mosque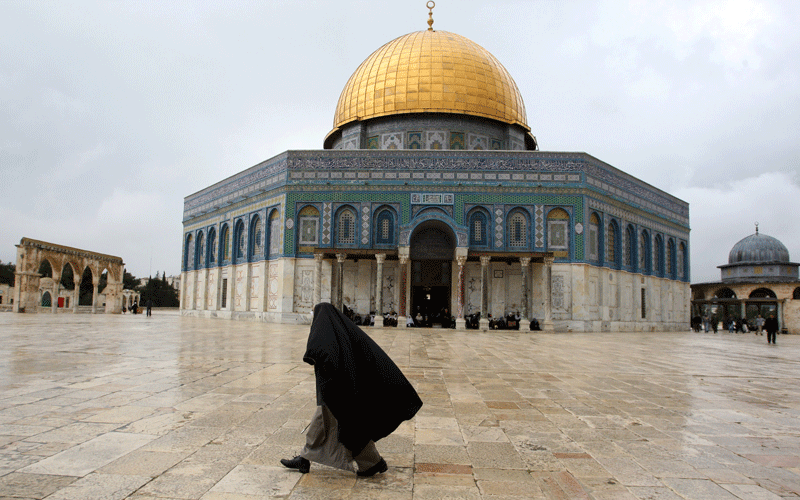 Israel on Monday curbed travel from the West Bank and access to the flashpoint Al-Aqsa Mosque compound as Jews celebrate the week-long Passover holiday amid heightened tension with the Palestinians.
The Holy City has been rocked in past weeks by the worst unrest in years, triggered largely by rumours that a rebuilt 17th-century synagogue was part of a plan by Jewish extremists to destroy the famed Al-Aqsa mosque.
An announcement of plans to expand settlement construction in Jerusalem has further fuelled the tension while also angering the US administration and casting doubts over proposed peace talks.
Police said that Muslim men under the age of 50 and all non-Muslims are barred from entering the compound -- which is sacred to both Muslims and Jews. Police did not say when the restrictions would be lifted.
Authorities have also tightened restrictions on access to Israel from the occupied West Bank, closing checkpoints to general traffic, with exceptions for medical cases, humanitarian aid, and professionals and students with permits.
The restrictions on the occupied West Bank will be lifted on April 6 after the conclusion of Passover when Jews commemorate their biblical exodus from Egypt. The holiday begins at sunset on Monday.
Israel usually locks down the West Bank during Jewish holidays and has been especially wary in recent months as Palestinians clashed with security forces in and around Jerusalem's Al-Aqsa mosque compound.
Dozens of people were wounded in September and again this month when violence broke out following rumours that Jewish extremists intended to pray at the compound.
A Jerusalem police intelligence officer said security forces were ready for any attempt by hardline Jews to march to the site or by Islamic activists to whip up anti-Israeli fervour.
"Thousands of police... are deployed throughout the city," Commander Nissim Edri told Israeli public radio on Sunday.
Security was particularly tight around the Al-Aqsa compound, the third holiest site in Islam, and the holiest for Jews who call it Temple Mount.
Muslims are intensely sensitive to any perceived change in the status quo of the compound and many believe Jews are determined to build a new temple on the wide esplanade, the site of the Second Temple destroyed by Romans in 70 AD.
Jewish fringe groups have vowed to build a third Temple, but Israeli political and religious authorities have repeatedly dismissed the idea.
The status of Jerusalem is one of the thorniest issues in peace efforts with the Palestinians and has been in the forefront after US efforts to revive moribund peace talks failed to make tangible headway when Israel refused to bow to pressure to halt construction of Jewish homes in east Jerusalem.
The US-Israel rupture emerged two weeks ago when Prime Minister Benjamin Netanyahu announced plans to build 1,600 Jewish settlements in annexed east Jerusalem, embarrassing Vice President Joe Biden when he was in the country.
US President Barack Obama during a meeting in Washington with Netanyahu last week asked the Israeli premier to take up a set of confidence-building measures to promote peace talks, according White House officials.
Benny Begin, a member of the security cabinet, told public radio on Monday that the US demands were proving counter-productive.
"The pressure applied by the Americans will have the opposite effect, inciting Palestinians and Arabs to adopt more extremist positions," said Begin, a minister without portfolio.
"Reunited Jerusalem is the capital of Israel and there is no way we will give up our sovereignty," he added.
Israel annexed east Jerusalem in 1967 in a move not recognised by the international community. The Palestinians see east Jerusalem as the capital of their promised state.
Follow Emirates 24|7 on Google News.