I have certainly got regrets and not just about losing fingers and bits of toes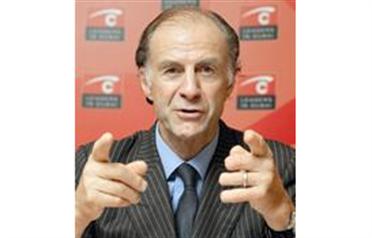 The Guinness Book of Records has described him as "the world's greatest living explorer" and Sir Ranulph Fiennes, OBE, has certainly broken plenty of records to warrant the title.

The author of sixteen books, including To the Ends of the Earth and Living Dangerously was in the emirate as part of the Emirates Airline International Festival of Literature.


You're the first man to visit both the North and South poles on land and the first man to completely cross Antarctica on foot – and the list goes on – what is your motivation behind undertaking these expeditions?

The lack of A-levels, I suppose. The thing is if I had A-levels I would have done what I wanted to do, which is what my father did. I really respected him, even though I never met him (Fiennes' father died shortly after his son's birth), and I would like to have been a commanding officer of the Royal Scots Greys Cavalry. I only went on these expeditions because I couldn't get a job in London.

Do you ever feel fear when going into unexplored territory around the world?

In an expedition what you are up against is nature, and nature is not out to get you. It's not just sitting there trying to make you fall in. But I did feel fear when I was with the Sultan of Oman's forces and getting cut off in the wrong person's territory – that sort of thing.

It is the same sort of fear you get in, shall we say, London at night when you realise a group of thugs are coming towards you.

You sustained severe frostbite to your fingers after a failed mission to the North Pole and famously amputated your fingertips in the garden shed using a saw. Could you have prevented losing them?

I wouldn't make that mistake again. The problem is no one had crossed the North Pole solo at that time and I thought the reason why nobody had managed to do it yet was because they set out too late.

They wait until the daylight has come and the temperatures have risen to around -40C and then they go.

When they get near the poles, summer has already come and there is too much water so they can't make it. The obvious answer to this problem was to set out in the dark two months earlier – unfortunately the moon made the water rise and I fell in one of the pools. I wouldn't make the mistake a second time.

Do you have any other regrets?

I have certainly got regrets and not just about losing fingers and bits of toes. The expedition I'm most happy with [the Transglobe Expedition], there were 52 of us, who worked unpaid for seven years in planning it, but right until the last week it could have failed and a large part of our lives could have been rendered useless.

We were incredibly lucky, the ice just seemed to behave well at that particular time. The reason why no human had been around the world [on its polar axis] is because they never had our luck.

We didn't realise that when we were planning, otherwise we wouldn't have spent so much time in the planning.

Finding the Lost City of Ubar [in Oman] is one of your more well-known discoveries. It was a search that took 24 years. How did you eventually find it?

That was also luck. Nasa tried to claim it was because of their cleverness, but the only thing Nasa helped us do was find the places where it wasn't.

It was sheer luck. We decided to dig on some rubble about 300 yards from our camp site, where a French team had already explored, and within three days, about nine inches under the surface we uncovered a Persian chess set about 2,000 years old. Soon they started finding the outskirts of the city walls – just our luck.

Do you enjoy your job?

I certainly enjoy planning it and we enjoy talking about it – afterwards.

After all the places you have explored, is there anything left for those who want to follow in your footsteps?

There is plenty of stuff left for young people. You don't have to go into the field of polar exploration.

If you are very lucky and very clever you could be an explorer under the sea. According to the National Geographic last year, 92 per cent of the world's oceans have been explored – that leaves eight per cent that haven't been. Then space, OK that's a small target of people, but it is possible.

But if you are a botanist or a geologist nowadays you have modern equipment and more knowledge. Take a botanist for example, if you go to a Brazilian jungle, maybe a botanist has been there before you – but not with modern equipment – so you can discover new plants and new medicines unknown to man.

What's next?

I'm not telling. The problem is if I tell and it gets out then when we get there, we find the Norwegians are already there.


PROFILE: Sir Ranulph Fiennes Adventurer

Born in England in 1944, the explorer served eight years in the British army – two of them as part of the Sultan of Oman's forces.

In the late 1960s he began his ventures into exploration, leading an expedition up the White Nile on a hovercraft.

His most famous expedition, completed in 1982, involved journeying 52,000 miles around the world along its polar axis. He became one of the first people to visit both poles by land.

In 1992 he led an expedition to find the Lost City of Ubar in Oman. And in 2003 he completed seven marathons in seven days on seven continents just months after suffering a heart attack.
Follow Emirates 24|7 on Google News.