National Bonds Corporation targets 30% growth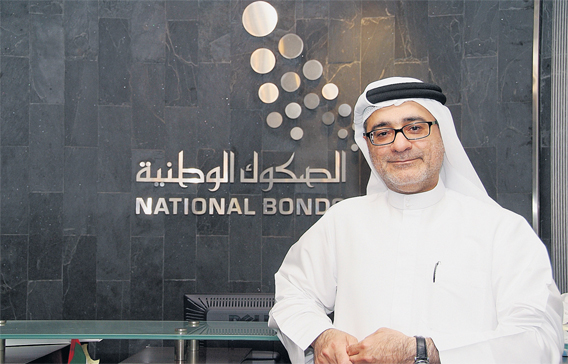 National Bonds Corporation (NBC), the Shariah-compliant savings scheme, is targeting a growth of 30 per cent in 2010 and is close to inking deals with some Dubai Government-related entities for enrolment with its employee savings scheme, according to the company CEO.
"We have approached the Dubai Government entities and are almost there… just a signature away with some government-related entities," Mohammed Qasim Al Ali told Emirates Business.
The company is looking to open representative offices in the UAE and has signed up for the Swift platform.
"Yes, expanding globally has always been on our agenda, but we have a lot to achieve within the UAE. We have recently signed up for the Swift platform. Now anybody from Venezuela to India can buy national bonds through the Swift channel," he added.
Why was there a delay in announcing the profit rate this year?
We had to make sure that our books were 100 per cent correct and every penny of revenue had been recorded. And so the Shariah and investment committee took some time to announce the profit rate.
An annual 2009 profit rate of 3.54 per cent is good compared to other investment opportunities within the UAE. But equity or mutual funds elsewhere in the world offer much higher returns. How do you plan to attract investors to the scheme?
We are a savings scheme and not an investment tool. We are Shariah-compliant, which carries a lot of value for our customers. Besides, we are licensed and regulated by the UAE Central Bank. We even have the biggest prize draw scheme in the UAE, probably in the Middle East; offering 22,250 prizes and a Dh1 million draw every month.
We have managed to get takaful cover for our members without they paying any additional premium. Anybody who joins the scheme automatically gets covered as per his or her investments in national bonds. It was a breakthrough for us since takaful has never been offered for a group scheme on such a large-scale across the Middle East.
Islamic banks here do pre-announce a profit rate for term deposits. Any chances of NBC pre-announcing profit rates?
The profit rates announced by Islamic banks are estimated rates. However, we are not talking about the product, we are talking about delivery – the end result. We are a highly liquid savings scheme, which means that anyone can redeem money after 30 days.
The returns that we have given in the past three years are far superior than offered by any Islamic bank on savings accounts. In some years, it was even better than the one-year rates announced by Islamic banks. For example, we gave 6.03 per cent in 2007 and 7.07 per cent in 2008. If we look at the one-year profit rate of banks, it ranges between 3.5 per cent and four per cent. And so we are far superior when it comes to delivery.
Being Shariah-compliant, we don't pre-announce profits. It all depends on the fund at the end of the year. Twenty per cent of the net profit is distributed to shareholders, while NBC keeps the remaining 80 per cent. In return, we put the prize money from our own pocket.
If you look at our performance for the previous three years, we managed to give back 16.64 per cent cumulative returns on the fund apart from the prizes. For some customers, it makes about 10 per cent in total with the profit and prize money.
What were the major challenges that you faced in 2009?
Finding good investment opportunities was the biggest challenge due to the global crisis. We also did not invest any penny in the real estate. We concentrated on managing our cash [liquidity] through the Wakalas and Mudaraba, and purchased sukuks, which give good yields [about 10 per cent on maturity].
We actually invest 50 per cent of our fund into liquid instruments and other 50 per cent in direct projects [private equity]. We do maintain a balance, but sometimes may invest 60 per cent into liquid assets.
What is your target for 2010?
The overall growth of the fund was 42 per cent in 2009 compared to 2008, while it was above 70 per cent in 2008 compared to 2007. Our customer base grew by eight per cent in 2009 compared to 2008. Since we are a little bit conservative this year, we expect growth of 30 per cent.
Has there been any change in your investment strategy?
We will continue to maintain our liquidity since cash is king. There is still a little bit of uncertainty in the global economy and so we will continue to invest in short-term instruments as we are a savings scheme. We are only four-year old and need to build up our portfolio to a certain size and then decide on investing in long-term avenues.
We will concentrate on acquiring income- generation assets. Sukuk is a very good tool for income generation. Besides, we have some inventory in Skycourts, a residential project in Dubailand, which will be used to generate income [rent].
Which sector are you looking to invest into?
We are not looking to invest in real estate this year. We will keep our eyes open for private equity (PE) opportunities, which could be in the consumer market, energy, and even agriculture sector. Sukuk is a good investment avenue and we will continue exploring it.
Are you looking to increase the number of overseas investors in national bonds?
Yes, expanding globally has always been on our agenda. However, we have a lot to achieve within the UAE. We have recently signed up for the Swift platform, which opens a huge window to the world. Anybody from Venezuela to India can now buy national bonds through the Swift channel.
Has an investment target been set for foreign countries?
We haven't put any number. Currently, we are concentrating on the UAE and that's where we are putting all the efforts. We are trying to come up with innovative ways of increasing our distribution reach. Swift is one tool, while the other one is to increase our direct sales reach.
We have a team of 100 people who go to the client and offer them personalised services. It is far more convenient as you
don't need to go to money exchange or banks. They come to you and complete all the formalities.
Have private companies shown inclination to employee savings scheme?
It is a new initiative, which will take some time to become popular. Dubai has thousands of companies and we got to have innovative ways of reaching them. This is what our team is working on. We have visited more than 100 small and medium enterprises. Dubai Aviation City Corporation has already signed up for the scheme. Their staff has volunteered to be member of the payroll deduction scheme.
Any plans to sign up with Dubai government-related entities (GREs)?
We have approached the Dubai Government entities and are almost there... Just a signature away with some government-related entities. Today, corporations have to ensure that they have the loyalty of their staff. Unfortunately, end of service is just a book entry for most companies here and so expatriates do not enjoy any benefits, as their money remains idle with the company. But, if it is invested in national bonds, for example, they get annual profit, a chance to win prizes and takaful coverage.
How do you plan to strengthen your retail distribution channel?
We are looking at opening some of our representative branches across the UAE in Abu Dhabi, Al Ain, Sharjah, Dubai. We are working hand-in-hand with the UAE Central Bank to get approvals.
Besides, the Empost, the UAE's national courier company, sign up was a breakthrough since it was the first time a non-financial entity started selling financial instruments across the counter. They added 25 per cent extra to our reach. We are working with them [Empost] to strengthen our strategic alliance through other initiatives.
Do you plan to open branches in overseas market?
Not yet... we are trying to increase the awareness of National Bonds through international and local websites in countries such as Saudi Arabia and Kuwait.
How much did you invest in sukuk market in 2009? Any plan to invest in Dubai Government sukuks?
I can't disclose, but it was a good number. We did buy sukuks that were issued in late- 2009 and if there are any new issues, then we will look into it and evaluate the offer. Previously, we bought Aldar sukuks as well.
Does your core investment team stress more on the UAE investment? Any plans of increasing stakes in these entities?
The whole country is our avenue. We have already invested in Taaleem, BCS Strata and Souq Extra and have no any plans to increase our stakes in these entities. We might exit from these companies with a profit as and when these businesses plan for an IPO.
Can National Bonds be pledged as collateral with banks?
The facility is always there from bondholders. However, it has to be done through a third party. For example, a bank or mortgage company. The need is still for customers, but third parties are not willing to sign up.
But why are you not signing up with any mortgage company?
We are willing, but they are not as the market is not right.
Are investors allowed to check the company's audited books?
We are a private joint stock company and so it is not mandatory for us to publish quarterly results. Besides, we have an investment and Shariah board that overseas our investments. We are 50 per cent owned by the Dubai Government and the rest by other government-related entities. We are also audited by the UAE Central Bank, which gives more assurance about our investments.
Was there too much pressure on redemptions in 2009?
We did see an increase in redemptions last year following the global crisis, but it settled down in the second quarter of 2009. After we declared the profit, people do like to redeem their profits.
Are you looking to increase the redemption amount?
We remain committed to paying our investors whenever someone wants to redeem their bonds. We allow Dh10,000 per account per day as withdrawal and if they wish to redeem through money transfer or cheque, then it is done within five working days. Now, we are exploring the option of redemption through the Swift platform.
How many of your employees invest in National Bonds and any chance of offering them bond option similar to Esop?
Almost all... the option of offering bonds to employees is being looked at by our human resource department. The staff, however, is not entitled to the prize draws, but entitled for the yearly profit.
Will NBC be investing in the tourism industry?
No, we don't have any plans. Our investment strategy is a bit different. We like to associate with things that are directly related to the lifecycle of a bondholder such as Skycourts, which is housing; Taaleem is into education and Souq Extra is into community shopping.
PROFILE: Mohammed Qasim Al Ali CEO of National Bonds
Al Ali was appointed Chief Executive Officer of NBC in January 2008. In his capacity as CEO, he spearheads the management of the company's growing portfolio of enterprises and development of new and innovative savings initiatives.
Prior to being appointed as the chief executive, Al Ali served as deputy chief executive officer in NBC for nine months. He has more than 17 years of strategic management experience in the airline and ground handling industry. He was earlier the general manager for UK and Ireland at Emirates and vice-president customer service and operations at Dnata. He commenced his career with Emirates in 1989 as overseas area manager.
Al Ali holds a graduate degree in aviation management from Florida Institute of Technology.
Global appeal
- More than 91 nationalities invest in National Bonds
- One third of the investors are females
- More than 80,000 minors have invested in the scheme
- 30 per cent investors are UAE nationals
- 20 per cent are Arab expatriates
- 50 per cent are other nationalities
- About 98 per cent of bondholders are within the UAE
Follow Emirates 24|7 on Google News.