Q&A: Caution and prudence 'the key to survival'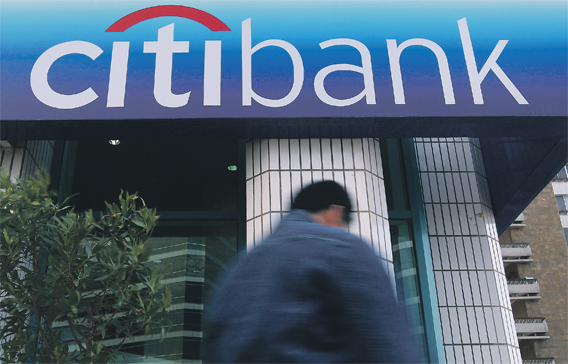 Recession posed many challenges for the banking industry the world over, and the Middle East region was also not spared. On the one side, the wholesale banking faced huge impairment threats from the large loans given to large corporate houses. The consumer banking division also has its own share of woes inflicted by its personal loans and credit card portfolio.
Emirates Business talked to Sanjoy Sen, Citibank's Consumer Bank Head – Middle East, on how his bank weathered the recession so far. "Be cautious, be prudent, and be responsible to your depositors. Do the right risk profiling for your wealth management customers," was the response from him for a question on what lessons he learnt from the recession.
Citibank has a presence in the UAE for more than 45 years and is expanding its major operations within the country. It is a pioneer in the field of consumer banking in this market. The bank is currently a major player in the UAE's credit card market and a leading provider of wealth management, consumer credit and non-resident Indian services.
What are your plans for growth in the Middle East?
Citi has 40 branches in the region. In the UAE, we have 11 branches including our financial centres. We offer our wealth management services to customers across the region through a host of onshore as well offshore suite of products.
We believe that this region has significant opportunity and potential for growth in financial services for consumers as well as small and medium enterprises [SMEs]. And we want to serve our customer needs in wealth management, credit cards and personal loans, and work with the SMEs in this region on their commercial banking requirements. We are committed to this region and we are making the right investments so that we continue to maintain our dominant position in this market.
What does investing more mean?
We serve our customers through multiple channels – branches, financial centres, Citiphone contact centres, sales force, online channel and strategic partners. Our growth strategy goes beyond the traditional 'brick and mortar' branches and we are investing in all these alternate channels. Customer needs are changing rapidly. Today, many customers do not want to walk into bank branches.
We ensure that our customers can enjoy state-of-the-art online banking experience. Citibank has received awards several years in a row for being the best consumer internet bank. This requires significant investment in technology and it requires us to successfully transfer our best practices and best products from across the globe into this region. Besides investing in infrastructure, we continue to invest heavily in developing our people.
We believe that the service quality and client experience in our bank is world class and this is possible because of our focus on hardware [technology, infrastructure, branches] as well as software [people].
Do you charge over-the-counter transactions?
As of now, we do not charge OTC transactions. Many of our customers prefer to transact online. Our online penetration is upwards of 65 per cent which is at the highest levels of benchmark even when compared with the most developed markets. We believe that the branch is only one of the channels of transactions. We continue to selectively grow our branch/financial centre network subject to approvals from the Central Bank.
Citi has always been strong on credit card business. Are you still the leader in the UAE?
We continue to be the market leader in the card industry, in terms of credit card spend in the market. As responsible and prudent lenders in the market, we ensure that we issue credit cards based on the stringent criteria and debt burden screening of the applicant. We want to give the right credit card with the right credit limit to the right customer. I believe that this is not a volume game but a value game. We want our credit card to have the best value proposition in the market and should be 'top of wallet' for all our customers.
What is your market share on spend?
It is about 22 per cent of the total spend through credit cards as per external market data on credit card spend.
You are active in personal loan also. Do you have any minimum salary requirement for personal loan?
Our minimum salary requirement is only Dh5,000 and we have been consistently maintaining this level for some time now. I believe that we are one of the few players in the market who have had a prudent, cautious but consistent strategy on giving personal loans to customers. This is very important customer need in this market and despite 'skips' and increased delinquencies in the market, we continue to evaluate customers on their debt-burden levels and give the right level of loans to the right customers.
What is the range of interest now in your credit cards?
We have different types of cards and the interest varies between 2.5 per cent and 2.9 per cent per month.
Do you think our [UAE] interest rate is one of the highest in the world?
This interest rate in this region is comparable to other emerging markets. The interest rate on asset products such as credit cards and personal loans are determined by the level of security and risk and the products have to be priced for risks.
A personal loan where the salary/payroll is transferred to our bank has significantly lower perceived risks and hence the pricing could be half as compared with an unsecured personal loan. The interest rate in different markets would also vary based on the level of credit bureau regulation. Credit bureaus lead to better data and information on the customer, and this leads to lower risk and hence better pricing.
We have long been hearing about the need for a credit bureau which is yet to be established here. Do you think this will take time?
We in Citi have been working proactively with the regulators to establish a formal credit bureau. I strongly believe that credit bureau is a positive step for the market – for the customer as well as the banks. It helps the industry manage the right level of debt which is healthy for the customers.
In the absence of a fully grown credit bureau, what data you rely on for lending decisions?
We depend on our own credit criteria and credit judgment to make our lending decisions. However, in the absence of a credit bureau, it is always a challenge to assess if the customers have obtained multiple loans from multiple banks based on the same income and single debt repayment capability.
Recession has dealt a big blow to the banking industry. What is the scene on your credit card portfolio?
Credit card has always been a very important consumer need in any market. While some customers use the plastic as a convenient mechanism to pay, there are others who use the same plastic as a facility to borrow and revolve. We call them the 'transactors' and the 'revolvers'. We are one of the largest credit cards issuing company across the world. We believe in bringing value to our consumers through this plastic. During the recession, there is a shift in consumer spending patterns from discretionary spend to 'essentials' spend. Our aim is to bring the best offers and discounts to customers at all touch-points of spend.
We believe in innovation. In this region given the size of the expat population, there is huge demand for air travel. We have a co-brand with Emirates airline which is a world class airlines. In addition, we have just launched the Citi Premier Miles card which addresses the need of customers who travel on multiple airlines. These cards enable our customers to redeem miles on more than 300 airlines across the world.
Do you have plans to do away with annual fee like many other banks have done?
We charge annual fee because we believe that we bring value to the card and our customers gladly pay the annual fees since they derive value which is many multiples of the annual fees of the card. We do not believe in offering the lowest price or a free product in the market.
How risky has the credit card become in the past two years?
Certainly, credit card like any other unsecured consumer finance has a high level of risk. And the risk levels depend on the state of the economy. During recession, there are job losses, reduced income and saving levels and this has a direct adverse impact on the credit card industry.
In the past two years, the industry as a whole has seen significant increase in credit losses. However, we have always maintained a prudent lending strategy, and hence we continue to grow our business despite change in credit cycles.
Many have left the country leaving behind large debt. How do you follow up the collection process?
We have very strong processes for collections as this is a very important part of our business strategy. We have strong analytics to support us. Collection is a science and we invest in it proactively. Collections cannot be an afterthought. If we do not have effective collections, it will lead to good customers subsidising the defaulters. We play a significant role in educating our customers on how to use debt smartly.
We are willing to work with our customer and help restructure and rewrite their loans as long as they have the willingness and intention to repay.
Does the 'credit shield' cover job loss?
Yes, credit shield does cover job losses to a certain extent based on the terms and conditions.
How do you see SMEs growing during the past few years?
I believe that there are huge opportunities for growth of SMEs in this market. We offer a full range of banking services to our SME clients which include trade services, cash management, forex services, loans and advisory. We have the best-in-class technology platform and client management systems for SME customers.
Has there been a drop in the issue of credit cards, spend on credit cards during the recession period?
Yes there has been drop on these fronts. There are two types of card spend – one is the essential spend such as utility bills, school fee and groceries. The other is the discretionary or luxuries spend which had dropped. However, we are seeing a gradual, but steady return of luxury spends.
Can you brief us on your wealth management business?
We have a best-in-class wealth management services which leverage on our global learnings and understanding of this business. We offer a range of investment and insurance products which include equity-based products, mutual funds, structured notes and fixed income bonds. We have scientific sales planning tools which help us do a risk profile and product suitability of the customer based on which the customer can take well-informed decision on the right investment products.
What is the minimum balance for wealth management?
We have got different customer segments. Our Citigold customers need to have a minimum balance of $100,000 while the Citiblue customer segment requires a balance which can be as low as $10,000.
What lessons have you learnt from the recession?
We have to do the right thing for the customer. Give him or her, the right level of loan as much as he/ she can pay back. Be cautious, be prudent, and be responsible to your depositors. Do the right risk profiling for your wealth management customers. Advise them on the right asset allocation. Maintain the highest level of operating efficiency through continuous re-engineering. Focus on profitable growth and not just growth.
Follow Emirates 24|7 on Google News.