Tennis supremo looks to future in bid to keep event growing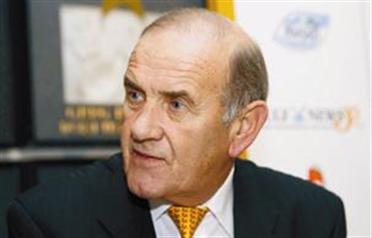 Thanks to new rules issued by tennis' governing bodies recently, Dubai's two Tennis Championships – the Men's and Women's Opens – have specific requirements they must meet in order to host sanctioned events. The biggest stipulation imposed by the Women's Tennis Association (WTA) and the Association of Tennis Professionals (ATP) involves a minimum venue capacity of 7,500 on centre court.

The upgrade led to an announcement this week that the annual two-week tennis showcase will be relocating from the Aviation Club, where it has been held every year since 1993, to a new purpose-built venue at Dubai Sports City. We caught up with Dubai Duty Free's Managing Director Colm McLoughlin, to discuss the past, present and future of the two Dubai tournaments, which his company organises.


The Aviation Club has a reputation for creating a lively, enjoyable atmosphere during the two weeks of the Dubai Tennis Championships. Can you tell us a little about the change in venue and what spectators can expect from the new stadium?

Because of the upgrade of our tournament, we need a stadium with a bigger capacity. We have been in discussions with Dubai Sports City and they have agreed to build a new stadium there, which will have a minimum of 8,000 seats – it may even have more. It will be called the Dubai Duty Free Tennis Stadium and it might have a structure where an expansion system can be implemented each year. Of course, we are not sure when it is going to be finished, but it may be 2011.

We have seen the event sell out for several years now, has the change of venue been a long-time coming?

Well, we never talked about it seriously until one year ago. When both the WTA and the ATP tournaments were upgraded, we knew that, due to new requirements, we needed 7,500 capacity on centre court. That requirement only came into being a year ago, so the discussion to move only started after that.

Is the plan to try and replicate the atmosphere of the Aviation Club or will it be a new venue with its own character and structure?

We will try and replicate some of what we have already. We will have restaurants surrounding it and we are also in discussions about possibly building an Irish Village. The atmosphere at the Aviation Club is lovely. People go there and they have a day out. We, as much as possible, want to replicate that aspect.

You mentioned that the new host venue of the tournament will be called the Dubai Duty Free Tennis Stadium. As a pioneer of the region's first world-ranked tennis event back in 1993, were naming rights important to you in terms of recognition?

I think naming rights are always important, but particularly with the tennis because we started this and we nurtured it and built it up. We built [The Aviation Club] and if we could expand it we would. But we haven't and we need more capacity, so with it not being possible to do it here, I think Dubai Sports City was a good choice. Putting our name on the stadium allows us to continue the association, so we like that. But we wouldn't go off to England and want to do a deal and name a stadium there. It is a different matter for Emirates airline and Arsenal because that is part and parcel of their business. But I am happy the stadium has been named after us.

This year has already seen several of the top-ranked men's players visit the UAE to compete in last month's inaugural World Tennis Championships in Abu Dhabi. What was your initial reaction when you heard a neighbouring emirate had secured such a high-profile entry list?

I thought it was good. It was an exhibition thing and when we started our tournament all these years ago, we were going to do an exhibition at that time. But eventually we decided to try and apply for a week on the Tour, which we got. I think bringing those players to Abu Dhabi is good for tennis in the Middle East and it's good for tennis in the UAE. So I would be very happy if it continues.

Do you expect them to push for a place on the Tour in the near future?

If I were them I would. There is a lot of stuff around such an event – it's not just a week-long exhibition. We are involved all year long with the WTA for example. We are a kind of corporate sponsor of the WTA and are represented at 16 or 18 tournaments around the world. I think it's good that we did what we did for us and if I were doing it or involved with the event in Abu Dhabi, that would be my plan certainly. I'm sure that is their plan too as IMG [International Management Group] are involved and they know how to do these kind of things.

We have seen the prize money for this year's two tournaments has remained $2 million (Dh7.34m) each. Has the event been affected at all by the current economic crisis?

When we started selling the tickets for this tournament, we deliberately didn't put them up. We kept the prices the same, but they still sold out in a few hours on the first day. Our company, Dubai Duty Free, was up 23 per cent on the previous year. In January, we were up three per cent on January last year. Traffic through the airport was up on the same time last year. And we haven't struggled at all with sponsors.


PROFILE: Colm McLoughlin Managing Director,Dubai Duty Free

Born in 1943, Irishman McLoughlin started his career aged 19 at Woolworths in London. In 1969 he returned to the Emerald Isle where he would later become General Manager of Shannon Airport Duty Free. In 1983, McLoughlin moved to the UAE to help set-up Dubai Duty Free. Since the creation of the company, the 65 year-old has watched it grow and witnessed it get increasingly more involved in sport sponsorships. In 1993, Dubai Duty Free hosted the first world-ranking tennis tournament in the Middle East, complete with a prize fund of $1 million (Dh3.67m). Since then a women's event has been added and both tournaments together offer a prize pot of $4m.
Follow Emirates 24|7 on Google News.