Trade between Middle East and Asia grows threefold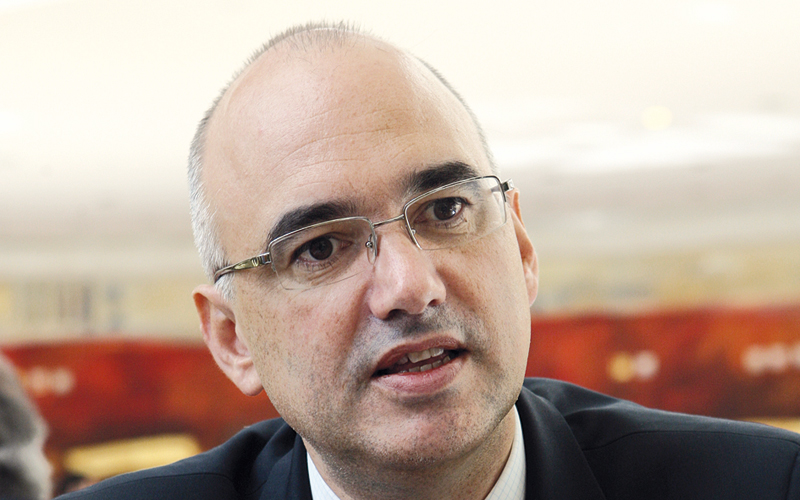 The West, despite the rise of emerging markets, still has the lion's share of trade with the US, Germany and the UK alone comprising a third of the total. Nevertheless, the region's share of the global trade is expected to catch up as Middle East and Asia continue to increase their activities. Trade between these two regions trebled to $765 billion (Dh2.8 trillion) from $260bn in the last four years, and is expected to continue to grow at 30 per cent every year, Etienne Bernard, Managing Director, Global Transaction Services, Region Head, Euro zone and Middle East, RBS said.
"This is because the UAE, and Dubai specifically, is viewed by Asia as a good access not only to the GCC countries but also to North Africa. Another reason for the growth is Europe not being as active as it was before," he told Emirates Business in an exclusive interview.
It seems the global economy's growth is dependent on the recovery of the West, which still has the lion's share of trade. There has been little trade flow in this region in the past years. Has that situation changed?
You are absolutely right. If you look at the global flows, the Euroland is still the biggest trade market, about 30 per cent of the global market. What we have seen in the Middle East, where intra-regional trade is around $120bn, is that trade flows have been increasing compared to other regions. Because of the crisis there is no growth in Europe, and in the Middle East and Asia, the volume has multiplied by three in the past four years. Between Middle East and Asia, the trade flow is now at $765bn from $260bn a few years ago.
What factors drove this growth?
The trade flow of the Middle East with Asia is growing by 30 per cent every year and this is because of the fact that the UAE, and Dubai specifically, is viewed by Asia as a good access not only to the GCC countries but also to North Africa. Another reason for the growth is Europe not being active as it was before.
Which country is the biggest trade partner of the GCC and the UAE in specific?
The biggest is China, followed by Germany. A lot of import-export activities of the real estate and the supply chain are related to China. A lot of construction materials are comes from Germany.
But we have heard a number of officials describing India as the UAE's top and biggest trade partner, and China only the second?
There is a lot of commodity happening with India. There are a lot of things happening with India relating to raw materials but in terms of the volume, it is still less than China and Germany.
Did the 30 per cent year-on-year growth trend take a beating in the last two years?
In the long-term basis, we expect a lot of infrastructure to be built in the region because of the young and growing population. This is a market that will grow. It can grow faster if there is more transparency. What's happening now shows signs of willingness to have more governance and more transparency.
Has there been a shying away of capital inflows because of the debt and transparency issues?
There are some questions but I don't see a shying away. In fact, many corporates are right now looking at the region. This is an ideal and superb location, ideally located between US, Europe, Africa and Asia. If you are looking to have a regional buying centre, if you want to centralise and manage your liquidity – this region as a whole is a very good spot.
Many GCC states are competing with each other to be the financial centre of the region. What's the unique proposition of the UAE?
Dubai was very successful even in a crisis mode as they grew while others were declining. Right now, in terms of volume, it is still Dubai. All the GCC countries can benefit from the location. While some areas may be more specialised, many international corporates chose the UAE as their treasury centre and now want it to be their warehouse as well. It is also true that Saudi Arabia is a bigger market, so it may depend on the product. If you are contemplating on warehousing or selling internally, you may choose Saudi or Qatar and if you are thinking of managing trade flows to other region, Jebel Ali is the most successful place.
While banks and debt and equity capital markets remained muted in the past 18 to 24 months, what are the trends in accessing capital?
The banks should be more innovative as we have less funding than we used to have. Secondly, the pricing market has changed and corporates are asking how to access better pricing and how to strengthen relationship with the whole chain. We, for example, use all the receivables or the balance sheet of the customer to go for short term unfunded securitised type of alliance. Depending on their position, we can pre-finance any shipments, we can do some discounting of deals, or we can use the customers' receivables to help customers finance their own suppliers.
PROFILE: Etienne Bernard MD, Global Transaction Services, Region Head, Euro zone and ME, RBS
Bernard joined the bank in Paris in June 2004 to lead the GTS team in South Western Europe, covering sales activities for Cash and Trade in seven countries. In 2004, he became Head of Corporate Commercial Clients in France, and was responsible for leading teams covering Consumer, TMT, Industrial and Integrated Energy sectors. Prior to joining the Group, Bernard spent four years at Deutsche Bank as Sales Head for several countries. Before that he acted as Senior Sales in Cititbank and Credit analyst in Société Générale.
Follow Emirates 24|7 on Google News.