A Mattar of pride for UAE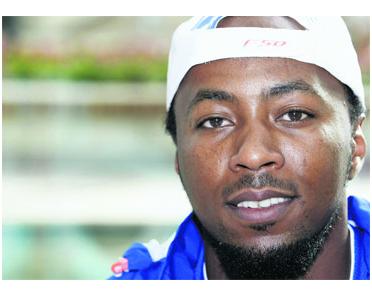 It is Friday, June 15, 1990 and in a dark room in Abu Dhabi, sat in front of a small TV, is a fresh-faced eight-year-old Emirati called Ismail. He is watching the UAE play West Germany in the 14th edition of the Fifa World Cup Finals with his brother Adel, but is finding the whole situation rather confusing. Adel, six years Ismail's senior and cheering on the team in red, is smiling, despite his team losing 5-1. "What's going on?" thinks the younger brother.
Eighteen years later, Ismail Mattar still cuts a diminutive figure, but the fresh-face and footballing ignorance are long forgotten. Now, aged 25 and sporting a cleanly clipped beard, Mattar, an attacking midfielder for local side Al Wahda, is the official poster-boy of adidas in the Middle East, has represented his country 68 times and scored 32 goals. He, of all people, understands the relevance of the UAE playing at a World Cup.
"I remember 1990, it was the first time we had qualified so the whole country was happy," he says, looking relaxed having recently returned from a short break in Syria. "I remember watching us lose to Germany. I was young then, I was just starting to play football and I didn't know what it was all about. My brother though was so happy to see our national team playing in the World Cup. Losing did not matter so much to him."
Born on April 7, 1983, Ismail Mattar first noticed he had a talent for the beautiful game shortly after starting school. Adel – who himself would go on to represent the UAE at the international level – would play five-a-side with his friends while young Ismail would watch. Often, after a game, the group would teach the little brother some tricks and, in time, Ismail's talents were honed. Soon, he was the teacher.
By 2001, he had signed for Abu Dhabi-based club Al Wahda and within five years, he was playing for the national team. Now Mattar is the team's pre-eminent playmaker, the fulcrum of the Falcons' offensive operations and the face of a team battling for qualification for the 2010 World Cup in South Africa.
Two games into the qualification campaign and the UAE have beaten Kuwait in Abu Dhabi and drawn with Syria in Damascus. Next up is a trip to Tehran at the beginning of June and Mattar is well aware of how important the game could be in his quest to fulfil a career dream.
"We have played two good games and picked up points and we have a tough game against Iran. But if we get a good result then we are 50 per cent on our way to qualifying for the next round," he says philosophically.
"Playing at the World Cup would be a dream come true for me. I can't imagine how happy I would be. When you achieve a good thing, only in that moment can you know how you feel. Until that moment it is too hard to imagine – but we are working hard to achieve our goals.
"We all know we must reach the 2010 World Cup and we are now in a good position. Inshallah, we are able to make our country happy and proud again by qualifying."
Mattar had a key role to play the last time the Emirates experienced football success. In January 2007, the attacking-minded midfielder scored an injury-time winner against Saudi Arabia in the semi-finals of the Gulf Cup before netting the only goal in the final three days later. His half-volley against a battling Oman team gifted the UAE their first piece of silverware in their short footballing history as well as turning Mattar into a national hero overnight.
"I cannot explain how I felt when we won," he reflects while taking a break from signing autographs at an adidas promotional event in Festival City. "It was the first time we had won anything and the whole Emirates were happy. My life changed unbelievably. In fact, life changed, work changed, everything changed.
"When I was younger, my brother was doing well and playing for the national team. He became famous and when he walked down the street, everybody wanted to hang out with him and speak with him. It was a very good experience for him and I wanted that. Now I experience it myself."
Five months after the Gulf Cup triumph, the UAE failed to live up to high expectations at the Asian Cup. Much of the blame fell on Mattar's shoulders, with critics claiming poor displays by the team's star performer was the reason the team failed to progress past the group stage. Recently, the Emirati has come under fire again as his domestic side Al Wahda find themselves dangerously close to the bottom in the etisalat League table.
"Obviously we are not doing as well this season," he says. "But instead of people blaming me, they should look at the team as a whole. I am not the only player in the team. I need help, too."
The criticism has clearly left a bitter taste in the mouth of a player who this time last year was enjoying widespread success and international recognition. A trip to Italy last year, where he was hosted by former AC Milan CEO Adriano Galliani, opened his eyes to the possibilities of professional football in Europe. And while the Emirati admits he has a "nice, easy life" in the UAE, he also concedes the time is approaching for him to spread his wings and depart his homeland.
"If I get a good offer I will leave this summer," says Mattar, who married his wife eight months ago and has said in the past he would prefer a move to Spain. "I have had some offers, nothing official, but clubs definitely want me. I have spoken to clubs in both the Gulf and Europe; Portuguese sides, Spanish, Greece… there are many clubs. Now is the right time and, inshallah, I think the right offer is coming soon.
"I have good friends outside the UAE who will help me when I want to join Europe. I hope I will be the first UAE player to play there and one of the first Gulf players to play in England. Only [Bolton and Oman goalkeeper] Ali Al Habsi is playing there at the moment.
"I have a lot of talent that I haven't shown yet, but when I go to Europe I will show it. I believe if I work hard I can reach my target and play in one of the top leagues in the world. Even the star players now, such as [Lionel] Messi, Kaka, Steven Gerrard, they all had to work hard and accept hard training and endure hard times – and now they are superstars.
"In Spain, Barcelona is my team," he adds. "Of course, I would love to play for them, but I am realistic. It is the same in England, where I support Arsenal.
"In Italy, I support Milan and I am friends with Mr Galliani. I visited last year and was with him. I was able to see how they respect a player and make a player confident when he plays for the team. That is how it should be."
Mattar managed to gain a further insight into the Milan mentality in January when, as part of the Emirates Challenge, Carlo Ancelotti's side visited Dubai and played the UAE in an exhibition match, which the Italians triumphed 2-0.
"Playing against Milan was a special moment for me and allowed me to see what level I am at," he says. "But without doubt the best day of my career will be when we qualify for the World Cup."
And if that happens, there may well be another fresh-faced youngster, like little Ismail all those years ago, watching, smiling and biding his time before leaving his own indelible mark on UAE football.
"I am still waiting for my first son inshallah," says the man with the cleanly clipped beard. "But when he is born, I dream he will like football and grow up to be even better than me."
Follow Emirates 24|7 on Google News.