Surprise! Tiger turns up early at Augusta National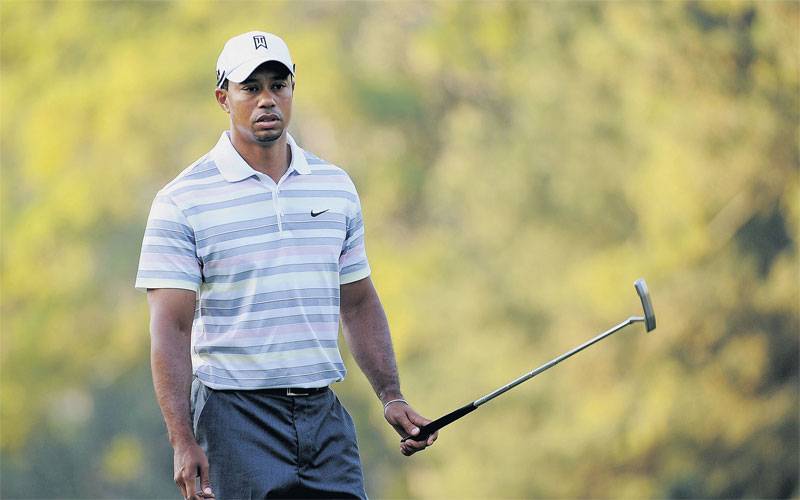 Tiger Woods sprang a surprise at Augusta National on Sunday when he turned up without notice to play the back nine at the US Masters venue with his good friend and long-time mentor Mark O'Meara.
Woods spent 10 minutes practising at Augusta's revamped practice facility, speaking briefly to British world number six Paul Casey and 2003 US Open champion Jim Furyk.
The scandal-hit American world number one, who has been in virtual hiding since his stunning fall from grace at the end of last year, then embraced O'Meara on the 10th tee before the pair set off. Wearing sunglasses, a purple-and-white striped shirt and khaki trousers, Woods was smiling and appeared to be in a very relaxed mood.
Also accompanied by his caddie Steve Williams, swing coach Hank Haney and around 15 security personnel, Woods shared a joke with a sheriff's deputy once the practice round was over.
"He played great," double major winner O'Meara told reporters. "He's doing what he needs to do. He's going to be fine. I think he's just ready to get out there and start playing. He's one of the toughest guys mentally I've ever met.
In line with tradition on the Sunday before Masters week, neither the golfing media nor fans were permitted on the par-72 layout and Woods left the course without speaking to any reporters after completing nine holes.
As Williams trudged off the course after a glorious sun-splashed afternoon, he carried Woods's black golf bag, which was notably bereft of any sponsor's names, bearing only the letters 'TW' in white with Tiger Woods written below.
Woods, widely viewed as the world's wealthiest athlete, was estimated to earn about $100 million a year in endorsement deals before the scandal led AT&T and Accenture to drop him as a spokesman. Other sponsors, however, stood by him.
The 34-year-old, a 14-time major champion, has not played competitive golf since his private life spectacularly unravelled at the end of last year. Woods took an indefinite break from the game to try to repair his marriage amid revelations about his extra-marital affairs before announcing last month he would return at the Masters, which begins on Thursday.
A four-times champion at Augusta National, Woods was scheduled to face the media yesterday, in all likelihood after he has played the front nine in practice with 1992 Masters winner Fred Couples. It will be his first appearance at a news conference since the scandal erupted after he crashed his car outside his Florida home in the middle of the night last November.
Follow Emirates 24|7 on Google News.