China ready for Spain in Fed Cup showdown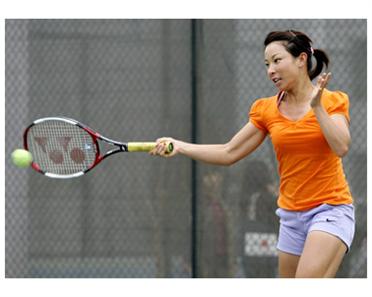 A relaxed China are comfortable with the mantle of favourites as they attempt to beat five-time champions Spain this weekend to become Asia's first-ever Fed Cup finalists.
"We don't see being favourites as too much pressure," China's head tennis coach Jiang Hongwei said. "It is also an opportunity and we're looking forward to it."
China are at home on their fast hard courts of the indoor International Tennis Centre here against a Spanish side who prefer clay.
Both teams are deprived of their number one players, with China's Li Na still recovering from surgery on her right knee and Spain's Anabel Medina Garrigues facing commitments elsewhere.
Saturday's singles pits Spanish number two Carla Suarez-Navarro, ranked 132 in the world, against Peng Shuai, ranked 68, while 76th-ranked Nuria Llagostera Vives takes on 206-ranked Zheng Jie (pictured above).
Maria-Jose Martinez Sanchez and Arantxa Parra-Santonja pair up for the doubles against Zheng and Yan Zi on Sunday.
"The draw is not a big deal and it won't make any real difference," said Spanish coach Miguel Margets. "China are obviously the favourites on their own hard court here. But the pressure is off Spain and that suits us."
China are making their first ever semi-final appearance after sealing a dramatic 3-2 first-round victory in February over two-times champions France, who fought back from 2-0 down to level the tie but were unable to close the match.
Li Na, ranked 35 in the world, played in that tie but has since been sidelined by injury. Coach Jiang said she was on the way to recovery after undergoing surgery but still needed time.
"But she won't be back in time for the French Open at the end of next month," he said.
Spain beat last year's runners-up Italy 3-2 in Naples in the first round after romping to a 3-0 lead.
The winner of the tie faces either Russia or the United States, who are meeting in the other semi-final in Moscow. (AFP)
Saturday
Peng Shuai (CHN) v Carla Suarez-Navarro (ESP)
Zheng Jie (CHN) v Nuria Llagostera Vives (ESP)
Sunday
Peng Shuai (CHN) v Nuria Llagostera Vives (ESP)
Zheng Jie (CHN) v Carla Suarez-Navarro (ESP)
Zheng Jie/Yan Zi (CHN) v Arantxa Parra-Santonja/Maria-Jose Martinez Sanchez (ESP)
Follow Emirates 24|7 on Google News.