Tiger tipped for swift return: PGA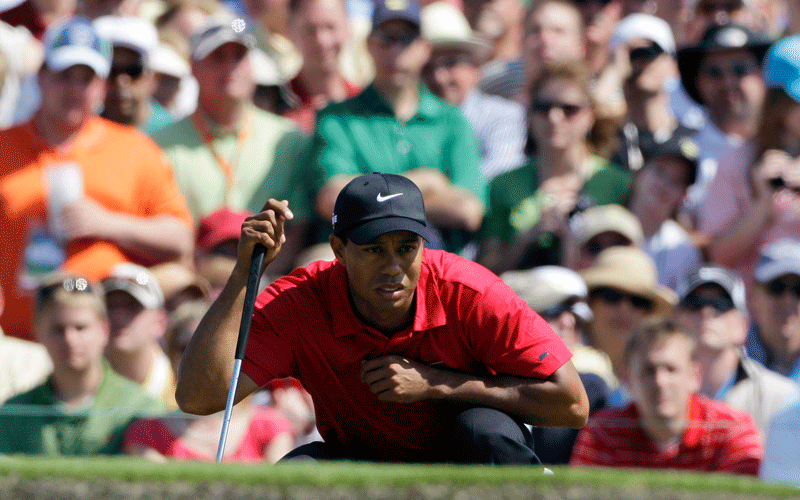 Tiger Woods is expected to let the PGA Tour know soon when he will return to action, Tour commissioner Tim Finchem said on Sunday.
Media speculation has linked the world number one with a return before or for the U.S. Masters in early April.
"I'm as excited everybody else to see him back, I hope it's this spring, but my sense is we'll know pretty soon," Finchem told NBC television on Sunday.
"All of the speculation (is) about what is going to happen at the end of March, I think if he's going to play at the end of March or early April, we will hear pretty soon because he recognizes we need time to do it," he added.
American Woods is currently on an "indefinite break" from golf following the much publicised scandals surrounding his extra-marital affairs.
Woods spoke to the media last month in Ponte Vedra, Florida and was expected to announce a return date but the 14-times major winner said only that he did "not rule out" coming back this year.
The golfer has been working on his game recently while reports have speculated on whether he will come back in March for a warm-up prior to the U.S Masters or go straight into the event on April 5.
Finchem said he was glad that the public's focus had shifted from the details of the scandal towards Woods's return.
"Everybody is done looking back at the circumstances that resulted in him stepping away from the game and (are) now focused on when he is going to play golf. I think that is good," he said.
"It is going to be huge when he comes back and then we'll see how. It's going to be an interesting thing to watch, how he re-enters the game, how he plays, how he deals with the reaction to his statement," added Finchem.
"But I do feel this huge change in the atmosphere because of what he said and I was impressed not only about him talking about personal issues but about him talking about the game.
"I thought he set the bar for himself and we all know what happens when Tiger sets the bar for himself," said Finchem.
Follow Emirates 24|7 on Google News.