Can Lloyd Weber work his magic again?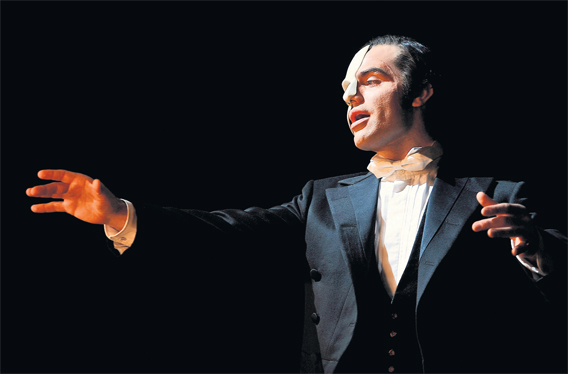 How do you top your biggest success? Andrew Lloyd Webber will attempt to do just that this week, when Love Never Dies opens at London's Adelphi Theatre on March 9.
A sequel to The Phantom of The Opera, possibly the most successful musical of all time, Love Never Dies continues the story of The Phantom, who has moved from his lair in the Paris Opera House to haunt the fairgrounds of Coney Island. Set 10 years after the mysterious disappearance of The Phantom from Paris, the show is billed as a rollercoaster ride of obsession and intrigue.
The singer Christine is invited to perform at Phantasma, a new attraction in Coney Island, by an anonymous impresario and, with her husband Raoul and son Gustave in tow, journeys to Brooklyn, unaware it is The Phantom who has arranged her appearance in the popular beach resort.
Ramin Karimloo reprises the role of The Phantom, while Sierra Boggess will create the role of Christine in Love Never Dies.
Here, Lloyd Weber talks about the challenges of a sequel as well as how the new story came about.
Tell us about the story of Love Never Dies?
I have to be careful about what I say about this story because it has so many twists and I don't want to give it away. But, what I can say is it's set in America 10 years roughly after the original Phantom and is set in Coney Island. Coney Island is a fantastic place – Sigmund Freud once described it as the only reason to go to the United States. It was beyond anything that anybody had ever seen – the great eighth wonder of the world and it was the place where all the freaks and oddities went and of course The Phantom could be absorbed in there.
Now, our story finds him 10 years afterwards and he's gone to Coney Island. He's gone with Madame Gieru, his old friend, he's gone with Meg, her daughter, and he's now the big mogul of Coney and is running the whole place and that's where our story starts.
Why did you decide to follow The Phantom of the Opera and why now?
I've often thought that we left the original Phantom with a little bit of a cliff hanger and I thought, well, why not do a sequel to it at one point. It took a very long time coming. I mean quite frankly, I thought about it 15 years ago, perhaps a little bit more.
At that time I'd come up with the idea about the Phantom's going to America and I talked about it with Freddy Forsyth, the novelist who obviously wrote things such as The Day of the Jackal – a very very successful and fine writer.
We talked about it and we came up with a plot that he subsequently published as a little book called The Phantom of Manhattan, but it just simply didn't gel for me and I couldn't find a way through it and it was left alone. The only one thing that I took away from the book would be this time The Phantom would live above everything and he shouldn't live below like he did underneath the opera house. So, I abandoned it frankly and I forgot about it.
When did you decide to come back to it, then?
About three years ago I thought about it and came back and I thought, 'there is the germ of an idea here' and I worked on it again with a couple of writers and again it didn't happen. But, I then worked with Ben Elton on a project and Ben, who is a very very clever storyteller, said you know what – this whole thing is really all cuckoo – you've got a fantastic basis in this idea of him going to America, the idea of him perhaps going to Coney Island, it's wonderful but you're not developing all of the original characters, you're not taking them with you, you're putting in new characters and I'm going to do a plot with the original characters transported.
So, we have all of the five: Raoul and Christine, Meg, Madam Giry and The Phantom. They all appear in our piece and there's only one new character who's a 10-year-old child of Christine and Raoul's called Gustave.
I'm not going to give the story away, but Ben unlocked it.
Tell us about the two leads you have cast.
Our lead is the present Phantom in London who's been playing it for a long time and has been a really popular and very sexy Phantom, I have to say, called Ramin Karimloo, and he's just great.
We've just finished the recording of the complete album and it's all done now, unusually for a show. Our other principal, Sierra Boggess, who played the Little Mermaid in New York, I've known for a while. She also played Christine as a young girl – well, she's very young now – but she was only 21 when she played Christine in Vegas for me in the Las Vegas version of Phantom. She's a terrific actress and having just now recorded the whole thing and finished it I know they are an incredible fit. The passion that there is between the two of them, it's almost unbearable at sometimes – it's so strong.
How will the production roll out internationally?
Originally we thought that we'd roll out Love Never Dies internationally very quickly and in fact we thought about doing three productions at the same time. We drew back from that because I wasn't absolutely certain that we could cast it sufficiently well immediately like that. I thought that we must get the initial cast completely right, which is why we've got this unique thing of an album already recorded that contains our original cast and I don't think that's ever been done before.
After London, then in New York in November. All the plans now are pretty advanced for the Far East. Canada is on the slate already and we hope it will roll out around the world rather quicker than usual. But, it all depends on the cast.
Are you more excited or nervous about how Love Never Dies will be received?
Well, of course I'm nervous – I'm following up my own biggest success and there's no question about it. I mean The Phantom of The Opera, really, is the biggest thing I've ever done – even bigger than Cats, which in itself I never thought we'd top it. This is a piece I'm very proud of, I have to say. I think it's maybe more three-dimensional in terms of the characterisation than the original piece was, which really is a version of Beauty and the Beast with a bit of a twist. But, this one really does develop the characters in a way that I didn't have the opportunity to do in the old one and therefore it was very exciting for me to write musically. So, yes, of course I'm nervous about it, but I'm very proud of it and I'm very much looking forward to seeing it on stage.
When you look at the phenomenon that is The Phantom of The Opera did you have any idea it would be so successful?
Well, I must say when I wrote Cats and Cats became the longest running musical on Broadway I thought I'll never ever succeed in getting near this one and then nobody thought Phantom was going to be quite what it was. I remember when it opened in London it wasn't the favourite of the season in the sense that it was Chess the musical that everyone thought would be the absolute huge one that year.
We came in as the sort of slight underdog and it just took off. I mean, I remember the first preview we knew we had something, which was special but we didn't know that we had anything that would quite do this. We didn't know that we were going to have people changing their name to Christen Daae by deed poll and the whole thing that went with it. Anyway, yes it's a very tough act to follow and nobody ever thinks that the work they're going to do could ever be bigger than the one they do before, especially if you're lucky enough like I had to have such a huge thing as Phantom was.
- More information at www.loveneverdies.com, where fans can buy show tickets and pre-order the cast album, which will be released on March 17. Twitter and Facebook users can simply follow 'The Phantom'
Keep up with the latest business news from the region with the Emirates Business 24|7 daily newsletter. To subscribe to the newsletter, please click here.
Follow Emirates 24|7 on Google News.