Doc Martens still have a spring in their step at 50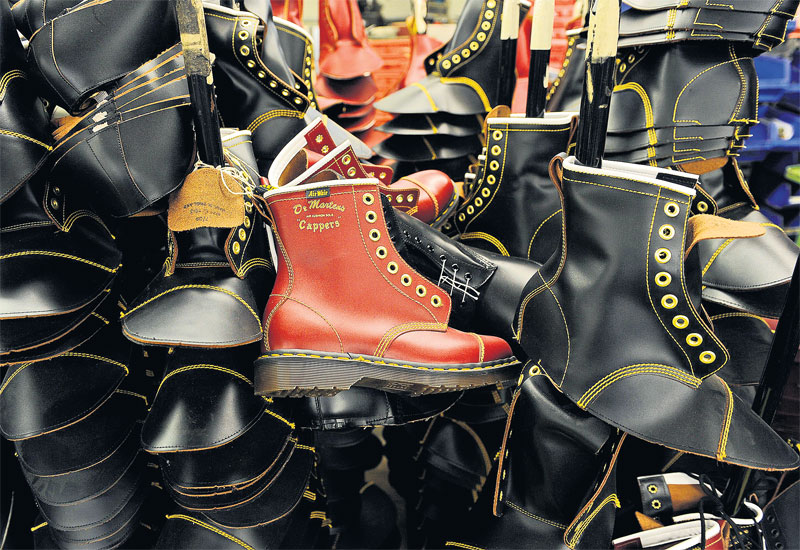 What do British 1980s groups Madness and the Cure have in common with current teen heartthrob actor Robert Pattinson, Pope John Paul II and the Dalai Lama?
Believe it or not, Dr Martens boots and shoes.
And as the footwear firm turns 50, it is looking back on a remarkable transformation from a tiny German company making orthopaedic boots to British fashion icon, whose shoes are worn by trendy artists and world leaders alike.
The key turning point came in 1959, when two German medics sought to market a shoe with an air-cushion sole, developed by one of them – Klaus Maertens – to help him convalesce after a skiing accident.
"The magic moment happened when, through an advert in a British professional magazine, the Griggs family – working boots makers – met the German doctors Maertens and Funck," said Martin Roach, who has written a history of the firm.
"At that time it was an orthopaedic boot sold 80 per cent to German women over the age of 40. They felt there was a bigger market but they needed a partner, hence the ad," said Roach, author of Dr Martens, the story of an icon.
On April 1, 1960, the first pair of Dr Martens – the name was anglicised, for ease of pronunciation – was produced by the Griggs factory in the village of Wollaston in central England.
Eight eyelets, ox blood red with distinctive yellow stitching, the new design was dubbed "1460" after the date of its creation.
And rather than hobbling middle-aged Germans, the target market for the new boot was aimed squarely at working-class Britons seeking a more comfortable and cheaper alternative to other footwear firms' rigid-soled leather offerings.
"My grandfather was the first one to sell Dr Martens in the world. We've sold the brand for the longest," said Nick Romona, owner of the British Boot Company in the trendy north London borough of Camden.
"It was a good, strong, comfortable, affordable work wear for the average working men in Britain… for a lot of those that picked up on them, like the punks and the skinheads, they were a good pair of solid, decent boots."
Within a few years the "1460" became an essential accessory for musicians wanting to play up their working-class links, including The Who's Pete Townshend, who was followed by dozens of other stars.
"Usually when a new subculture appears, it gets rid of the symbols of the previous subculture. But not the Doc Martens. It stayed with the skinheads, the punks, the mods, the grunges and so on," said Roach.
Their status as a style icon remains to this day, he said: "The Doc Martens' DNA is the same as youth fashion, so it will never go away."
Romona added: "They appeal to everybody – whether a postman, a schoolboy, a nurse or a judge."
Michael is a doctor, buying his first pair.
"I do a lot of walking in my work and I often wear through shoes, probably about every year. I just wanted a pair that wouldn't wear out on me and that would last a very long time, and the DMs do," he said.
German 40-something Sabina Muller said: "I had my first Doc Martens when I was 16-year-old and they are still all right… I love them."
More than 100 million pairs of Dr Martens shoes and boots have been sold since that first pair was unveiled 50 years ago – although there are now some 250 different models, from golden to fuscia, flowered to custom patterned.
But, in a sign of the times, almost all of them have been made in Asia since 2002: only about 50 leave the factory in Wollaston every day, including the
vintage 1460 model, made by 10 or so workers on old machines. The shop in Camden has also become an icon for the Doc Martens' faithful internationally.
"It's a very famous destination, we get customers from all over the world," said Romona.
"They want to come here to see where it all started. They come from father to son… especially from Europe. Their fathers would have bought their first DM boots in this store in the '70s and '80s.
"I am personally very proud to be the grandson of the guy who first sold them."
Follow Emirates 24|7 on Google News.