For World Cup, South Africa's football crafts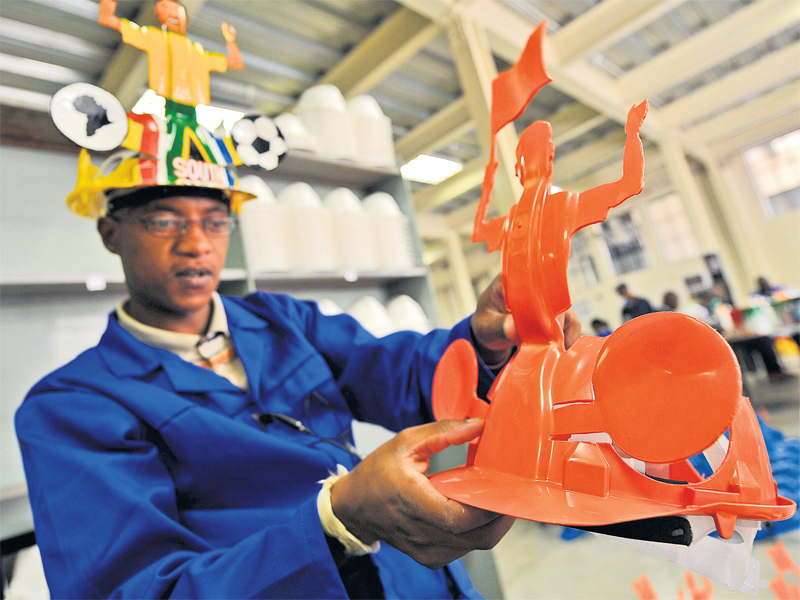 With reggae playing in the background, workers paint pictures of football players ont o hardhats, transforming the mining gear into an essential South Africa football accessory, the makarapa.
Most makarapas are handmade, created by individual fans who carve shapes into the hats and adorn them with team colours, a process that can take four days to complete.
With the World Cup's June 11 kick-off fast approaching, this cottage business has gone industrial, with workers in this factory using a machine to cut shapes into the hardhats in a matter of minutes. "After looking at how a makarapa is made, we realised there are two pinch points in the process – cutting them, and painting them," said South African architect Paul Wygers, who designed the machine.
"So if you can get rid of the pinch point of cutting them, which is the most labour-intensive part of the whole process, you can up the numbers," he said.
As the world prepares for Africa's first World Cup, interest is growing in how the continent celebrates football. Football governing body Fifa has ordered 2,000 makarapas for 12 of the top teams from Wygers' factory in Johannesburg, where artists paint them with different designs for each of the 32 teams competing.
Mineworkers first started wearing their hardhats to football games to protect their heads from flying bottles on the terraces.
In the 1970s, one fan thought of cutting and decorating his hard hat with the yellow and black of the Kaizer Chiefs, a popular club in the Johannesburg township of Soweto.
With large-scale demand coming from the up to 450,000 foreigners expected at the World Cup, many of South Africa's football crafts are undergoing an industrial revolution.
Another company mass-producing makarapas has simplified the process even further by printing stickers that fans can attach themselves. Metre-long plastic trumpets known as vuvuzelas, which sound like foghorns and reverberate through South African stadiums, are also being produced in endless commemorative varieties.
Some fans are dismayed by the commercialisation of local football culture.
"That's very painful, somebody getting money out of it," said Sadaam Maake, who styles himself as the Kaizer Chiefs' biggest fan and proudly designed his own makarapa.
"Somebody takes the idea for the World Cup, they will be rich. Sadaam will be poor," he said.
But Wygers, who designed South Africa's Constitutional Court building, said mass production creates desperately needed jobs in a country where unemployment is widespread.
About 35 people are employed by his makarapa company, which he set up in part of his architectural firm's offices. "The thing that attracted me in this project was the art part. And it is a social project as well -- it creates jobs. Almost none of the employees were employed before," Wygers said.
Manuel Ndindi has been painting helmets in the factory for almost three months. Before landing the job, he struggled to make ends meet painting from home. "Sometimes I would put my paintings in galleries. But it takes a long time to be bought in the galleries," he said. "Then sometimes I would sell my paintings in the street. But for cheaper price."
Now Ndindi earns a fixed salary while flexing his artistic muscles. (AFP)
Follow Emirates 24|7 on Google News.