Watchmaker hopes jewels will add sparkle to sales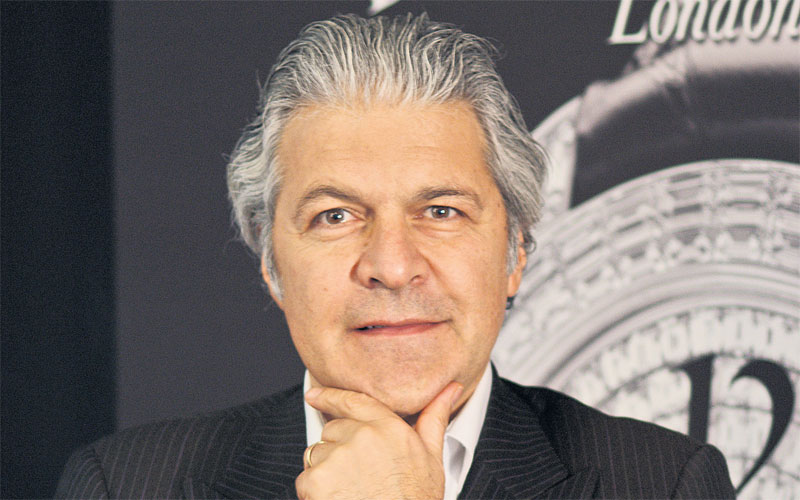 Diamond dealer Backes & Strauss is hoping a foray into diamond jewellery will help its branded business account for as much as 50 per cent of its bottom line in 10 years' time, Group CEO Vartkess A Knadjian told Emirates Business recently.
The company, which has earned a name for itself as a luxury watchmaker in the past five years, hopes to diversify its product line with a range of high-end jewellery. Launched last month, it is the brand's first jewellery line since the 1870s.
"They are unique, one-off, diamond-based pieces and have been designed in keeping with the brand's heritage and its reputation for reinvention over the years," says Knadjian.
Well-known for its focus on ideal cut diamonds, Backes & Strauss was founded in 1789 in Germany and is the oldest diamond company in the world. Over its 200-year history, as the economic situation changed, the company focused on different areas of the diamond business, from manufacturing jewellery produced around Europe, to polishing and distribution following the discovery of diamonds in South Africa, to trading in diamonds for most of the twentieth century.
Fifty-five-year-old Knadjian, who has worked at the firm since 1976, led a management buyout in 2003. Three years later, in November 2006, he launched a range of watches created in partnership with Franck Muller, among the most innovative watchmakers in the Swiss industry today.
"My idea was to leverage the tradition, history and name of the company – and I thought the most natural thing to do would be to go into jewellery," he says.
Watches currently account for five per cent of the firm's overall business, with all the manufacturing done in-house in Franck Muller's Watchland complex. Some of the brand's most successful models are diamond-studded wristwatches for men and its bespoke watch service is also a significant part of the business.
Knadjian describes the foray into jewellery as a move to add value to the brand and ensure its future.
"It's laughable that someone can spend five minutes on the internet and call themselves diamond experts," he says.
"That devalues the beauty and the intrinsic value of the gemstones. But going forward, it could quite possibly become the norm that people who haven't spent the requisite five or seven years training to understand diamonds are making decisions that impact the business. So I've opted to go into an area where we can stand apart and add value, to ensure the future of the brand."
The jewellery line will feature three main collections, Knadjian said: one will draw on certain aspects of the Backes & Strauss watches, another will be a contemporary range inspired by the company's rich heritage, in particular its 19th century jewellery catalogue, while the third will feature bespoke pieces that incorporate elements of the watches into wearable jewellery.
The range will be available in the UAE through its partner Al Tayer, which currently retails Backes & Strauss watches at Azal in Emirates Towers Boulevard.
The diamond industry was among the most high-profile victims of the recent recession and 2009 was a particularly tough year.
While gold benefitted from its status as safe haven, sales of diamonds plummeted. Yet, high-end, one-off pieces did well, particularly at auctions.
"I learned a lot from the recession," says Ethiopia-born Knadjian, who trained as an economist. "It's been a tremendous learning curve to understand the frailties of the market. What I thought when the crisis began and what I've seen a year later is the complete opposite," he says.
"People have become more discerning and are looking for quality, they want handmade top-quality items now because they want to buy one beautiful watch rather than five, as they did before."
Which ties in beautifully with Knadjian's business philosophy. "We want to be something special, not something you can buy at every other store," he says.
Follow Emirates 24|7 on Google News.