A rom-com that is smart and funny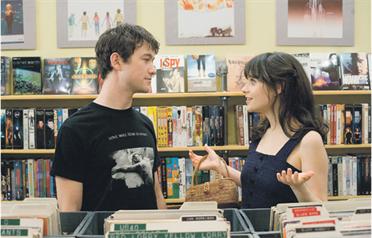 500 Days of Summer
is a lighthearted autopsy of a love gone sour from a strictly male point of view. You're not going to understand the girl very well, and you may learn more about the boy than you really want to. This imbalance throws off some of the comic possibilities of this rom-com-inspite-of-itself, but others will not be denied. The writing is often clever and the overall production playful and intelligent.
Directed by Marc Webb, the film is male-centric in the extreme. The woman at the centre of the picture, Zooey Deschanel's Summer, is the intense focus of not only her lover, Joseph Gordon-Levitt's Tom, but his two buddies, Paul (Matthew Gray Gubler) and McKenzie (Geoffrey Arend). They all scrutinise her every comment and gesture like obsessed bloggers arguing about the latest video game. Thus, Summer is the sum of every male's perception of her without giving her much chance to argue her own case.
The movie opens with the declaration that this is the story of a doomed love that did not last. In those 500 days of Summer, she will dump Tom and he will have to endure the suffering and the advice of his friends and wise little sister.
Tom encounters Summer at a point where his gears are stuck in neutral. Trained as an architect, he nevertheless works as a greeting card writer. He is smitten on Day 1, when his boss introduces her as his new secretary. The movie amusingly tracks back and forth through this year and a half to contrast a day of sheer glory with one of sheer anguish.
One highlight of this MO comes when Tom leaves for work following his first night with Summer. The world is in love. Everyone reacts to him with big smiles and high-fives. Eventually, a marching band joins in a celebratory dance number that continues until he hits the elevator at work. The contrast is the day he steps from the elevator looking like he just went five rounds with the heavyweight champ.
Gordon-Levitt brings the right amount of emotions and sensitivity to what might have been an awkward role of a stalker. You get that he's more in love with the fact of love than with an actual person. Deschanel, ever beautiful and elusive, plays Summer straightforward. She means what she says at the start – she is not looking for a serious relationship – and can't understand why that's not understood.
The film is brilliantly designed to take place in the revived downtown Los Angeles in such a way that it resembles New York or San Francisco. The film's admiration of the city's skyline and street scenes dovetails nicely with Tom's reawakened interest in architecture. So these '500 Days' go by pleasantly with much to see and, quite often, some smart, observant laughs.
- Out now on DVD from Dh85
Follow Emirates 24|7 on Google News.