Better software is moving the iPhone closer to a gaming device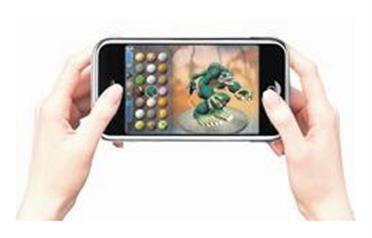 Of the hundreds of games on Apple Inc.'s application storefront for the iPhone, the overwhelming majority are terrible. Among this crowd are iPint, which uses the phone's motion-detecting accelerometer to simulate the movement of a glass of fizzy pop, and iFart Mobile, which uses sound effects to turn your phone into a virtual whoopee cushion.

Nonetheless, as developers have become more accustomed to programming for the iPhone in recent months, a number of very good games have come out.

While the best of the iPhone isn't on par with the Nintendo DS or Playstation Portable, the device is on its way to becoming a bona fide gaming platform.

Unlike the standalone portable game systems, the iPhone allows users to instantly download countless games cheaply or for free.

Here are four of my favourite iPhone games:

Tap Tap Revenge (Free): It isn't the most fun game on the iPhone, but from a business perspective, it could be the most important.

The game's formula is familiar: Users tap the screen along with music and a steady stream of falling "notes". It's basically Guitar Hero for your iPhone, and it's simple and addictive. Well over a million people have already downloaded it, making it the most downloaded iPhone game.

Over the past few years, the music industry has begun to wise up to the power of music-based video games as revenue streams and promotional tools. For ailing music companies, Tap Tap Revenge is a chance to repeat the success they've had with console-based video games on a smaller, more portable scale.

Hero of Sparta ($5.99 or Dh22): Most successful iPhone games are puzzle or strategy games. Fact is, the iPhone's relatively limited processing power and lack of real buttons makes it an annatural setting for anything that is too graphic or action-intensive.

That's why Hero of Sparta is so startling. In this game, players take control of a sword-wielding warrior, and hack and slash their way through an endless stream of baddies. While it has the subtlety of a Mack Truck, it is endowed with well- rendered 3D graphics, including some stunning cut scenes, and surprisingly smooth controls.

Fieldrunners ($4.99 or Dh18): Using virtual buttons on the iPhone can be awkward, so there's something to be said for games that allow players to take a hands-off approach.

In Fieldrunners, the action is mostly of the wait-and-watch variety. A line of barbarian-like invaders wants to lay siege to a tower, and it's up to you to stop them. That means selecting defensive traps and obstacles from a menu and using the touchscreen to position them in the enemy's path.

Although the game has brief moments of interactive action, most of it is spent merely watching what happens. This may sound boring, but it's actually very satisfying seeing your strategically placed creations put to work.

Rolando ($5.99 or Dh22): I love this game. It is inspired, unique, and very, very fun. It's also a game that could not exist on any other platform.

Players use the iPhone's accelerometer and touchscreen to guide a group of round Pac-Man-like characters through a dangerous world full of pitfalls. Tilt the screen, and the ball-like characters roll. Swipe an elevator upwards and it carries one of them up a level.

This physical manipulation of the gameworld is beautifully executed, and turns Rolando into a hybrid of a puzzle game and a Super Mario Bros.-like game. The best part, however, is the colourful graphics.
Follow Emirates 24|7 on Google News.