Entrepreneur brings Hollywood to Nepal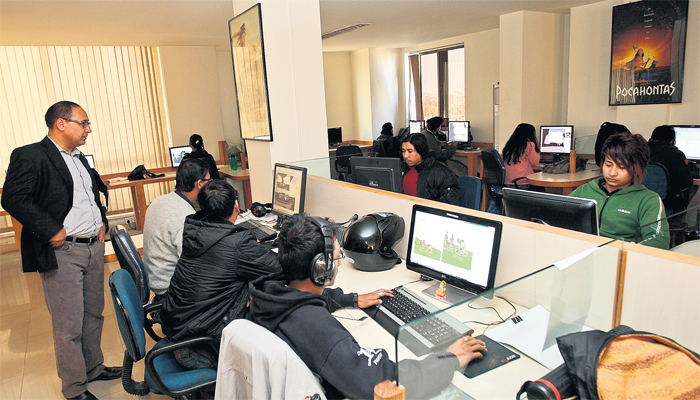 In a busy office in downtown Kathmandu, young Nepalese are using state-of-the-art technology to create special effects for a Hollywood remake of the cult movie classic Straw Dogs.
Until recently, some of them had never even used a computer.
Now, they are working for the likes of Walt Disney and Columbia Pictures at Nepal's first special effects and animation studio.
The company, Incessant Rain, is the brainchild of Kiran Joshi, who returned to Nepal to set up his own business in 2008 after a
17-year career in animation with US movie giant Disney.
Joshi whose film credits include The Lion King and The Hunchback of Notre Dame, admits he had his doubts about going into business in one of the world's least developed countries. But he said he was persuaded by the talent of the young artists he met when he returned to visit relatives in Nepal.
"Every four or five years I would come back to Nepal on vacation, and I always kept an eye on how things were going, but I never thought the country was ready for an animation studio," said Joshi, 48.
"Then in 2007 I came here and met some artists. Everyone I met had one thing in common – they had great passion, but no guidance. They made me realise I had to do something."
Incessant Rain is the first company in Nepal to specialise in visual effects for production companies overseas – already big business in neighbouring India.
Industry body Nasscom forecasts the global animation market, worth $68 billion in 2008, will grow to $100bn by 2012 as film and television companies use more computer-generated imagery and seek to trim costs by outsourcing work.
Joshi said Nepal has strong potential to tap into this growing market.
But he admits it is not always easy to do business in a country still struggling to recover from a decade-long civil war and beset by political instability.
"I thought the hardest thing would be to get the work up to a quality good enough for Hollywood," he said. "In fact, that was relatively easy. The hard part was the logistics. We need to have our computers on 24 hours a day, because even at night they are processing images. So power cuts, diesel shortages – these are the things that distract you."
A culture of unwillingness to criticise colleagues' work – or accept criticism of your own – also had to be overcome, said Joshi.
"That was hard – animation is very collaborative and you need to be able to provide constructive criticism. But many people here don't like to say what they really think. "So we would take them out of the office environment, to a café perhaps, where they felt freer to speak."
Incessant Rain began in early 2008 with 20 staff and for the first five months Joshi, who divides his time between Nepal and the United States where his family still lives, concentrated on training them.
Two years on, his company employs 85 people, and works on homegrown animation projects as well as the more lucrative visual effects work, outsourced mainly from the US.
Among the staff is 24-year-old animator Newerashmi Bajracharya, who said the profession combines her fine arts background with her love of acting. "Our job is to bring the characters to life," said Newerashmi, who recently worked on the ultimate cartoon character, Mickey Mouse, for a promotional film marking the Disney Channel's South Asian launch.
"The viewers should feel that the characters are not just puppets but are real."
Working on big Hollywood productions might seem like the more glamorous side of the business, and it is certainly the most lucrative.
But the work is not always creative – one of the most commonly outsourced tasks is wire removal, where an artist has to spend hours digitally erasing traces of the cables used by actors performing stunts.
Animation allows much more creative input, and Joshi said he most enjoys working on local projects, such as a recent series of short animated films promoting the work of the UN World Food Programme Nepal.
Follow Emirates 24|7 on Google News.