How to lose the plot & alienate viewers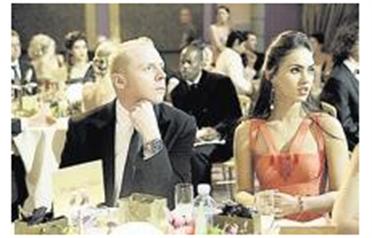 A film that sets out to demonstrate the shallows of celebrity-obsessed pop journalism should at least offer a few fleshed out characters, if only as a point of comparison.

How to Lose Friends & Alienate People keeps stubbornly to the surface, though, reducing Toby Young's sharp-eyed memoir of his rise and fall at Vanity Fair to an uninspired romantic comedy punctuated by cheap jokes. Simon Pegg is smart and obnoxious as the Brit in high-gloss Manhattan.

The adaptation, credited to Peter Straughan, uses anecdotes from the 2001 book while jettisoning its thoughtful observations about status, meritocracy and capitalism. Perhaps the biggest surprise is that comedy aficionado Robert Weide, directing his first narrative feature, struggles to find rhythm.

The names have been changed, just barely. The protagonist here is Sidney Young, Vanity Fair is called Sharps, and its imperious rebel-turned-power-broker editor, Graydon Carter, is dubbed Clayton Harding (Jeff Bridges). Clayton summons Sidney from London – where he publishes a snarky mag from his apartment over a kebab joint – to the haute publishing world of New York. Sidney believes his mission is to inject some of the old Snipe spirit into Sharps, but Clayton isn't interested.

While riding elevators with tall women in designer clothes, coveting a Tinseltown It girl (Megan Fox) and overturning every A-list apple cart he stumbles upon, Sidney falls for co-worker Alison (Kirsten Dunst). Not far beneath her flintiness she's sweet and "real" – a midwestern transplant who's writing a novel in longhand.

The story's dividing lines are nothing if not unambiguous. The Faustian bargain of high-profile, publicist-driven journalism is ripe for sendup, but with so many broadly drawn characters, the film has no satiric bite. When it isn't indulging in stupidity, it's belaboring the obvious: Sidney's philosopher father (Bill Patterson) shows up to provide an Einstein quote about success versus value.

A few well-executed stingers punctuate the proceedings, and a film-within-the-film offers a nice spoof of Hollywood miscasting: A luscious starlet (Fox) plays the young Mother Teresa.

For its part, How to Lose Friends collects a fine group of actors but gives them little to do beyond striking one-note poses.
Follow Emirates 24|7 on Google News.