Some of Europe's best to screen at Gulf Film Festival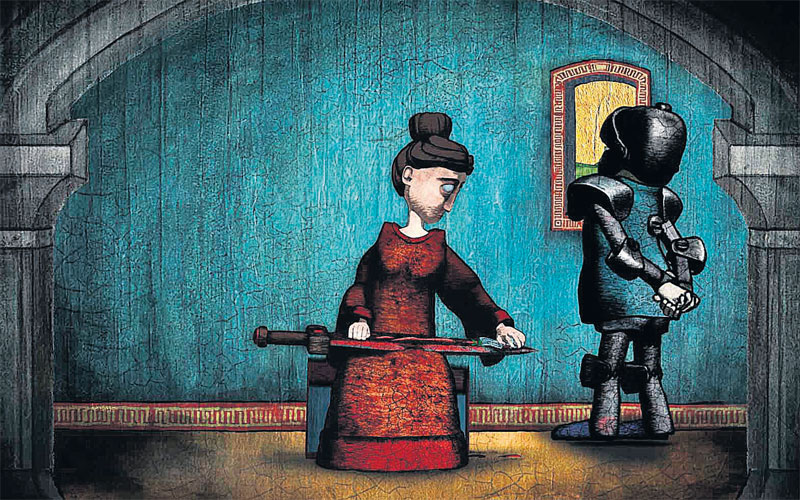 The third edition of the Gulf Film Festival (GFF), which begins tomorrow, features an intriguing blend of movies from east and west in its Intersections segment, which offers a bird's eye view of modern cinematic expressions from around the world. Of particular interest are the range of films from Europe, where filmmakers are setting trends in new wave filmmaking.
Salah Sermini, GFF Consultant, said cinematic expressions by European filmmakers have the power to change and challenge accepted norms. "European cinema has always been a strong force to reckon with. Despite being away from the glitz and glamour of Hollywood, Europe has created some of the world's stunning films that are text-books in filmmaking for all aspiring professionals."
French filmmaker Yann Chayia, tells the story of a young boy who discovers that his mother is dead and sets off to find his estranged father in Le Genou Blesse Et L'Hoi (Wounded Knee and The Standing Man).
L'aide Au Retour (Remigration) by Mohammed Latrèche deals with the subject of illegal immigrants in France. Felicita, by Georgia-based filmmaker Salome Aleksi is about a Georgian woman who works and lives illegally in Italy, while German filmmaker Jan Speckenbach tells the story of a man and woman who meet at a bar and spend the rest of the night walking only to separate at dawn in his short fiction film Spatzen (Sparrows).
British filmmaker Quayola demonstrates stained glass stimulations in Strata #2, while Varmints by Marc Craste illustrates the struggles of a small creature trying to preserve a remnant of the peace he once knew in the face of overwhelming urbanisation, indifference and recklessness.
Award-winning Canadian filmmaker Samir Rehem focuses on the buttons we push when we're in relationships in his comedic short film Don't walk out that Door, while award-winning Indian filmmaker Umesh Kulkarni portrays glimpses of people trapped in the room of a shady lodge, near the railway station in a small town in Gaarud (The Spell). A Filipina call-centre agent takes her American corporate-trainer out on the town, triggering a chain of events with unexpected consequences in Eric Flanagan's Teleglobal Dreamin'.
Several animated movies are also on offer. Leading the category is the Oscar-winning Logorama by François Alaux, Hervé de Crécy and Ludovic Houplain. The French animation movie Madagascar, Carnet De (Madagascar, A Journey Diary) by Bastien Dubois illustrates the voyage of a European traveller who is introduced to the culture of the island.
, which is accompanied by Simone Massi's Nuvole, Mani, an animated film about the platonic relationship we share with the Earth, with nature, and with time.
Tobias Bilgeri uses animation to depict the strength of a war hero, whose wife thinks of him with beaming pride, until one day she discovers that the blood on his sword looks like the color of tomato in You Are My Hero.
Follow Emirates 24|7 on Google News.