Stage is where the home is for Morrison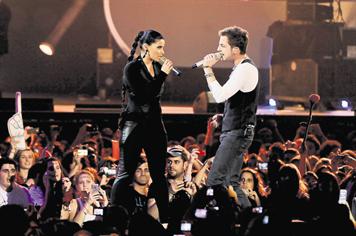 The final night of the weekend's Skywards Dubai International Jazz Festival 2010 has just come to an end, and we are backstage with the evening's headline act, James Morrison.

"It was a fantastic show," he beams. "I think I swallowed a few mozzies [mosquitoes] though… there were loads up there!"

The talented British soul/pop/rock singer-songwriter had just completed a 90-minute set, entertaining the sell-out crowd at Dubai Media City with hits from his albums Undiscovered, and Songs for You, Truths for Me. Part of his encore comprised a cover of Michael Jackson's Man in the Mirror.

"I really enjoyed doing that," he tells Emirates Business afterwards. "It's just one of those songs, and Michael Jackson's a legend."

Nasty mosquito bites aside, it certainly must have been a relief for Morrison, 25, to be performing in the evening after enduring a very hot sound-check session earlier that day.

Meeting print and television press after his afternoon session, he says how he had to take some time to get used to the weather.

Speaking of Dubai, he tells the publication, "I like it – the buildings are absolutely amazing. It's strange though, it has a bit of a weird vibe because you know you're in the middle of the desert.

"And it's hot!" he adds, clear sunburn marks already forming on his face. "We've had rubbish weather in the UK recently, so it has taken a bit of getting used to, but I don't mind the heat."

This marks the first Middle Eastern visit for the Brit Award-winner, following four years of solid hard work touring and releasing music from his two albums.

Top singles include You Give Me Something, The Pieces Don't Fit Anymore, and Broken Strings, a duet he did with Nelly Furtado.

He says: "I love Nelly Furtado… She's so down to earth, but she's also a bit away with the fairies.

"She's really professional, and you can tell she's a master at that stuff. She's fun to be with and doesn't take herself too seriously."

In the midst of his busy schedule, however, Morrison enjoyed a bit of family time, and his partner Gill, gave birth to a baby daughter 17 months ago.

"After this album, I enjoyed having some time off with my family," he continues. "What kind of a dad am I? A really bad one!

"Nah, my daughter is my life, and I think I am a good dad. I am strict when I need to be."

But there is a price to pay when you're successful in the music business.

"Unfortunately, I missed out a big chuck of my daughter's first year, but that's a sacrifice I had to make in order to give her a life I never had. I've got to keep doing what I'm doing."

And his live performance proves that he's great at what he does – and the singer is more than happy to admit that touring is his ultimate comfort zone.

"The live side of things is where my power is, and when you also write your own tunes, you make good money," he says.

"I enjoy performing, I enjoy the creative side of things. I'm never going to be a video star, and I'm not into the fame game – some people love all of that, but I like to think that I handle it very well. As long as I am selling tickets, I'll continue doing what I'm doing.

"I'm happy with my life."
Keep up with the latest business news from the region with the Emirates Business 24|7 daily newsletter. To subscribe to the newsletter, please click here.
Follow Emirates 24|7 on Google News.