EAD launches coral restoration programme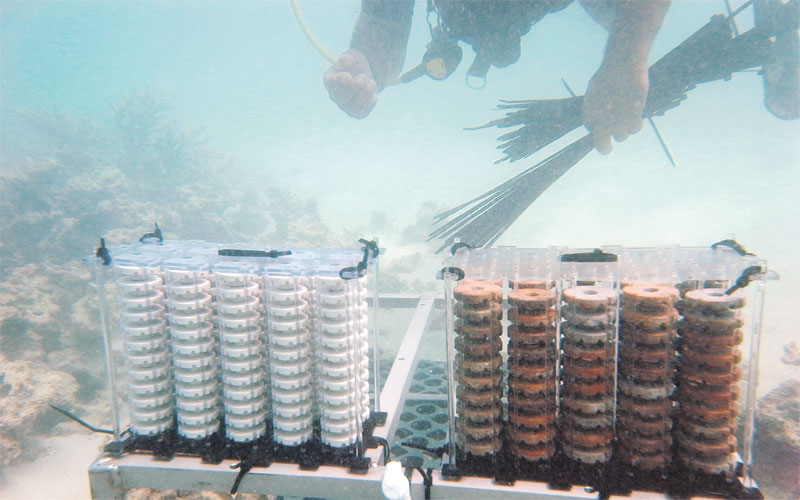 The Environment Agency – Abu Dhabi (EAD) has launched Coral Reef Restoration Programme in co-ordination with Tokyo University of Marine Science and Technology (TUMSAT) and Japan Oil Development Company (JODCO).
This pilot project is part of a programme to study the feasibility of coral restoration in Abu Dhabi. The initial stage of this project will be to evaluate the state of corals and the scope to apply modern restorative technologies to Abu Dhabi reefs. If successful, the programme will provide opportunities for coral reef restoration.
Coral reefs of Abu Dhabi survive in one of the most stressful conditions of any reefs in the world. This is due to extreme seasonal temperature variations as well as very high salinities experienced in the Arabian Gulf. Despite these conditions, the reefs are able to thrive and provide an important habitat for a variety of marine wildlife. Human activities as well as natural phenomenon are known to cause coral reef degradation. Activities such as dredging, reclamation and anchoring cause harm to coral reefs. Rising sea surface temperatures linked to global climate change are also known to cause bleaching and death of corals.
Coral Settlement Devices, developed by Dr Mineo Okamoto of TUMSAT, have been installed in sites off the Saadiyat and Al Dhabeiyah islands in Abu Dhabi. This technology has been successfully applied to rehabilitate corals in various parts of Japan, including one in Sekisei Lagoon, the largest coral reef in Okinawa prefecture
Through this partnership, EAD hopes to gain a better understanding of coral reef reproduction in Abu Dhabi and explore new technologies for the rehabilitation of damaged reefs and ensure the continued survival of critical marine ecosystems. Some EAD employees will be visiting Japan on a transfer of technology programme, as part of this project.
Follow Emirates 24|7 on Google News.