Extinct cheetah cubs bred in Abu Dhabi project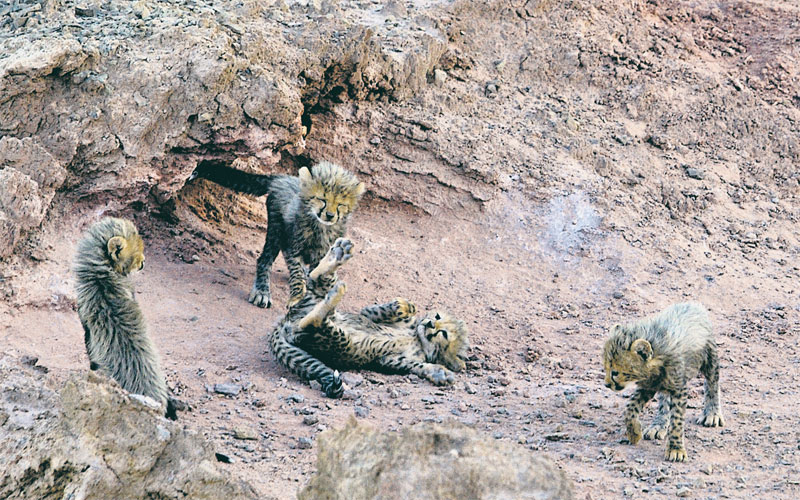 Four cheetah cubs, the result of a successful breeding programme, have joined the Sir Bani Yas Island conservation project, part of Abu Dhabi's Desert Islands destination.
As the cheetah is classified by the IUCN (International Union for Conservation of Nature) as extinct in the UAE, and vulnerable worldwide, the birth of the four cubs is of significance to the continuation of the species globally and locally.
Following the birth of the first hyena cubs in the wild in the UAE, this is being seen as yet another success for Sir Bani Yas Island in re-introducing and protecting previously extinct animals into the wild. The cheetahs on Sir Bani Yas Island are from captive bred populations. The parents of the cubs, Safira and Gabriel, were raised in Sheikh Butti Al Maktoum's Wildlife Centre and the Sharjah Breeding Centre for Endangered Arabian Wildlife, respectively.
"As wildlife and nature conservation are part of our mandate, the Tourism Development and Investment Company (TDIC) takes the responsibility of preserving the environment of the Western Region very seriously, and this is one of Sir Bani Yas Island's main objectives," said Lee Tabler, Chief Executive Officer, TDIC.
"Through this and similar programmes, we hope to continue to support Abu Dhabi in its quest to become an international tourism hub,while maintaining respect for the local heritage and environment," he added.
Follow Emirates 24|7 on Google News.