Art market picks up again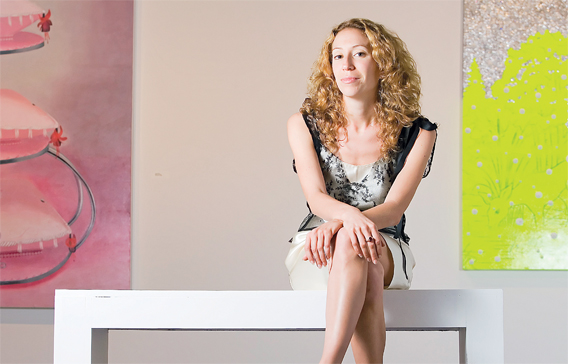 The art market has started to pick up again after taking a bashing during the global recession – but experts say it may take another year or two to recover fully.
However, rare works of art that appear in the market are still fetching record prices.
With Art Dubai and the Global Art Forum taking place at the end of this month, Emirates Business spoke to a number of experts to check out the state of the art market post recession, the genres to look out for and the artists to keep an eye on.
"The market is recovering partly but it may take a year or two to recover fully," Dubai-based collector Aziz Kurtha said. "While obviously the best works will recover first, the recovery in the secondary and tertiary art will take longer.
"During the recession, the market fell by between 30 and 50 per cent. Chinese contemporary art fell by 60 to 70 per cent, Indian contemporary art fell by 50 to 70 per cent in Dubai and Indian modern art fell by 20 to 40 per cent."
Hisham Samawi, Managing Partner at Ayyam Gallery, said: "The market is recovering now and we are seeing an increase in sales. During the recession, the contemporary art market was hit, as was the Middle East and Arab art."
Kurtha added: "For every artist, the value of their best work was not affected too much. If the price of an artist's best work falls, it usually falls by between 20 and 40 per cent. When a rare and really good piece of art comes on the market, recession or no recession, it always sells for a good price just because it is so special.
"Also collectors and buyers drive the art market. So if a few collectors are after a good piece of work that has come on the market, the price will automatically go up, and during the current recession a few really good works of art have come on the market and fetched record prices."
Jussi Pylkkanen, President of Christie's Europe and Middle East, said: "There is fierce demand from global art collectors, who have a particular desire for the rarest and best works that are being offered at auction. In 2009, there was a drop in supply as collectors were less willing to offer works of art, but the strong results that we have seen over the past 18 months have illustrated the continuing spending power of global collectors and encouraged vendors to offer their works.
"The most general trend is that there is a real hunger for the best possible works on offer – the masterpiece market. When a rare opportunity to acquire a particular work of art presents itself, the result is exceptional and, often, record-breaking, price."
Notable moments over the past 18 months included the sale of the collection of Yves Saint Laurent and Pierre Bergé in Paris in February 2009 which realised more than €300 million (Dh1.51 billion), a record for a single collection sold at auction.
Another standout event was the auction of old masters and 19th century art in London in December 2009 which saw a Rembrandt masterpiece sell for a record price of more than £20m (Dh111.70m) and an exceptional drawing by Raphel realise £29m.
It has become clear that there is still strong demand in the market and when great works of art are offered exceptional prices are realised.
Claudia Cellini, Co-director of the Third Line gallery in Dubai, when asked where the market was heading post-recession, said: "The recession took the less serious artists, buyers and galleries out of the market and what is left now are serious art and collectors.
"The days of massive speculation and flipping are over and now people take more time over choosing a work. The market is definitely doing better than at the same time last year. The core collectors are still there and they are still acquiring. There is a limited but healthy growth as there is still an appetite for art but not as reckless as it was before. The market is now more real and more serious."
Samawi said: "I think at the end of the day, the recession was not such a bad thing as it brought correction to the market and now the market here has consolidated."
The increased numbers of collectors from both the traditional collecting areas as well as more recent geographies such as the Middle East, Asia and Russia have led to increased competition, particularly for the best works. And the increased confidence of vendors is creating a greater supply of works for global collectors. Kurtha said: "When prices fall in the art market, collectors tend to hold back and not put their paintings up for sale as they know they will receive lower prices. But when the market starts recovering, you see more paintings being put up for sale."
The experts believe the genres that are doing well post-recession are Asian art, which continues to grow as a category, particularly due to the increased interest in art from Asian collectors coupled with an increase in their spending power.
The established categories of old masters, Impressionist art, jewellery and post-war and contemporary art are continuing to generate healthy results.
Kurtha said: "I would say the artists to look out for who will certainly do very well in the future are Shahzia Sikander, Subodh Gupta, Damien Hurst, Adeela Suleman, Khalid Al Saai, Balraj Khanna and Venkenna. I think they will go places and are worth buying now."
And Samawi said: "Some of the artists who will really make it big in the future and whose work will be showcased at Art Dubai are Walid El Masri, Thaier Helal, Mohannad Drabi and Oussama Diab. Another is a Syrian artist Safwan Dahoul. Just three years ago his work was selling for $2000 now it sells for $100,000 and above."
"However you must never buy art for money. You should buy it because you love it and enjoy it," he said.
Follow Emirates 24|7 on Google News.