Footfall at expo in Sharjah sign of confidence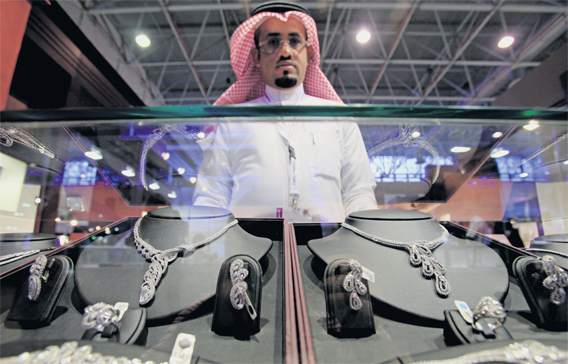 The MidEast Watch and Jewellery Show registered nearly 45 per cent increase in the number of visitors over its spring edition last year, reflecting better consumer confidence.
During its five-day run, the show (March 30-April 3) attracted 50,467 visitors as against 34,841 visitors for its 26th edition in April 2009, said Saif Mohammed Al Midfa, Director-General of Sharjah Expo Centre.
The key factor that spurred sales at the show was the returning consumer confidence, observed most of the exhibitors. According to latest figures, consumer confidence in the UAE jumped from 29.6 points in the second half of 2009 to 86.1 points for the first half of this year, said Al Midfa.
The increase was the largest compared to neighbouring countries, and the optimism in the UAE is the third highest globally, after Vietnam and Qatar, he said.
Gold and diamond jewellery sales dominated the show, while gold coins and bars were quite in demand by visitors seeking investment options. Finely crafted watches and other precious stones also caught the fancy of the visitors, said Al Midfa.
Attractive prizes also played a decisive role in attracting a large number of visitors to the show. Lucky shoppers who spent Dh500 or more won fabulous prizes in raffle draws held every day, said Al Midfa.
The success of the show encouraged several of the exhibitors to confirm their participation for the autumn edition of the show, he said.
"The show is the most attractive platform for both trade buyers and individual retailers," said Kevin Kee, Director of the Singapore-based Advance Diamond.
Nabil Jovial, Managing Director, Jovial Watches, UAE, said: "We are proud to be at this most successful jewellery gathering in the Middle East. Thousands of our clients prefer to visit us at the show here in Sharjah,"
Exhibitors came from all over the world, including Armenia, Italy, Bahrain, China, Lebanon, Qatar, India, Jordan, Japan, Lithuania, Myanmar, Saudi Arabia, Singapore, Thailand, Turkey, Malaysia, the US and the UAE.
Follow Emirates 24|7 on Google News.