Gulf buyers spur growth of Indian couture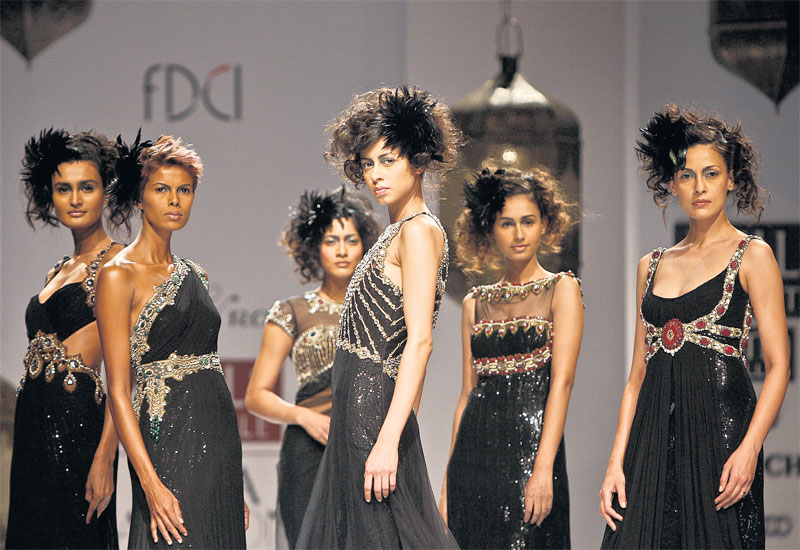 Demand for Indian couture has surged in the Middle East and East Asia in the past five years, but the West remains out of bounds due to lack of exposure, designers and buyers said at India's largest fashion event.
Most designers focus on a burgeoning market at home, where a rapidly growing middle class is consuming high fashion like never before, but a significant number are expanding abroad.
"Buyers from Japan and Arab countries are growing by leaps and bounds," designer Kavita Bhartia said at the Wills Lifestyle India Fashion Week, where 130 designers are vying for the attention of 150 domestic and international buyers.
Bhartia, whose skirts and tunics are major sellers in the Middle East and warmer regions such as Ibiza, said foreign clients look for something unusual but modern, and Indian designers can address all these issues.
Vineet Bahl, whose overseas clients account for 90 per cent of his sales, agrees. "Four years ago, you had to hunt them [buyers] down, but now they hunt you down," he said.
High fashion in India, which emerged after the country's liberalisation in the early '90s, is still comparatively small accounting for barely 0.3 per cent of the international industry's net worth, according to a 2008 estimate by industry body the Associated Chambers of Commerce and Industry of India (ASSOCHAM).
The ASSOCHAM report said the industry was expected to touch Rs7.5 billion (Dh609.63 million) by 2012 from the 2008 estimated level of less than Rs2.9bn.
The majority of foreign buyers of Indian couture are from Dubai and Riyadh, drawn to elaborate embroideries and handmade prints.
"It's amazing, the numbers speak for themselves. We've gone from just one [Indian] designer to 10 in just four to five years as the sales are very good," said Wasim Al Sadat from Harvey Nichols, Riyadh, who was looking to buy kaftans, tunics and long skirts at the fashion event that ended yesterday.
Nirupama Singh, a fashion trend analyst, said Indian designers are strong in the Middle East because the two regions share a cultural affinity. "The embroideries, embellishment… a Westerner might look at it as too over-the-top, but it appeals to eastern sensibility. Also, the amount of skin they reveal and the drapings… you don't need a perfect body, which increases the number of clients you can cater to," she added.
Interest is also growing in East Asia, which usually shuns ethnic Indian designs, said Song Haldeman from Hong Kong, who was looking for high-end designs with an Indian touch. "The novelty and embroidery… and also the textile here is very well done, this is what we are looking for," she said.
Haldeman, who represents Aux Laines Ecossaises in Paris and Harvey Nichols in Hong Kong, feels there are some interesting Indian designers to be followed, and they need more exposure as most big international buyers focus on the major fashion events in Paris and London.
Veteran designers such as Manish Arora, Kavita Bhartia, Vineet Bahl and the duo of Rohit Gandhi and Rahul Khanna already enjoy a buzz in Japan.
But the Western market is still virgin territory, with only a few designers such as Manish Arora and Ritu Beri, who see their designs as more global than traditional, making their presence felt in Paris Fashion Week.
European buyers at India Fashion Week, who were looking to buy mostly young and contemporary designs with geometric prints, said awareness of Indian fashion is still in the nascent stage.
"There is not much of a buzz yet [on Indian designer], except for Manish Arora," said a buyer from Paris who did not want to be named. Several international buyers are not even aware of India Fashion Week.
Designer Charu Parashar, whose foreign clientele makes up for 40 per cent of her sales, said Indian designers needed to make "a big hoopla" out of the fashion industry so that Western nations "finally realise how big Indian fashion is". (Reuters)
Follow Emirates 24|7 on Google News.