Humanitarian Oscars set for Abu Dhabi debut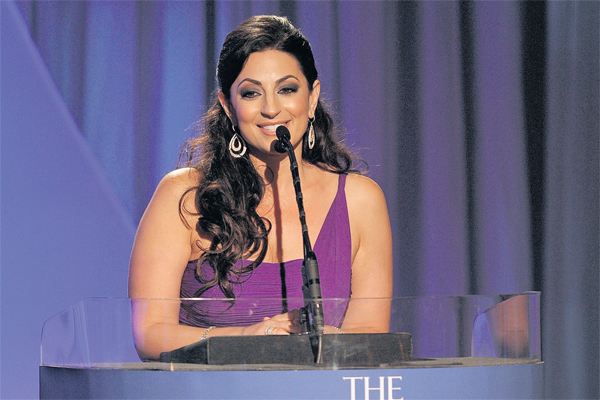 Forget about best film or best album. And that Avatar versus The Hurt Locker saga seems so two-thousand-and-late already.
Janeen Mansour's mission is not to honour musicians, actors or directors – this lady is set on recognising those regular folk who work terribly hard to make a difference to thousands, but adding a splash of glitz and glamour into the mix at the same time. She is the founder of The Noble Humanitarian Awards, an annual event that recognises the achievements of philanthropic organisations in the US.
This year, the Arab-American media personality is bringing the event to the UAE, where eight regional charities will be honoured at a star-studded gathering on April 24 at the Emirates Palace, Abu Dhabi.
Asked about why she decided to bring the awards' to the UAE, Mansour tells Emirates Business: "I am Arab-American, so my roots are in the Middle East. I was raised in the States, and I work in the entertainment and media business, but I also do a lot of charity work, creating awareness of all sorts of different causes.
"We set up the inaugural Noble Humanitarian Awards last year in Los Angeles, and being that I am Middle Eastern and live in Dubai part-time, I decided to host one here as well, which will then happen every year.
"It is all about raising awareness, but maintaining a celebrity aspect to it, because at the end of the day, celebrity drives attention."
Those who are familiar with Mansour will know that she is no stranger to the celebrity world (we'd love to see her Blackberry's address book).
As well as freelancing for popular American shows such as Entertainment Tonight, the half-Lebanese, half-Palestinian presenter made a name for herself in the region as the face of Dubai.tv, the regional version of founder Sheeraz Hasan's multi-million dollar empire, Hollywood.tv.
As part of Dubai.tv, she appeared at numerous events in Abu Dhabi and Dubai, seen rubbing shoulders with everyone from Adrien Brody to Paris Hilton.
Despite Dubai.tv being on hold for the time being ("After the economic crisis hit, it was hard for Sheeraz to keep it running without proper backing," she says), having those kind of contacts have definitely come in handy for Mansour's charity events.
"The Noble Awards is much like the Oscars," she continues.
"In the forthcoming event, there will be a full red carpet, it will be a formal event by invitation only. It is not a fundraiser by any means; it is an awareness raiser.
"With the one in the US, there was a method to our madness… We had the charity choose the celebrity they wanted to honour. They honour the celebrity who has done a lot of work for the charity, for example. In the Middle East, a lot of Middle Eastern celebrities do not do charity work, unfortunately. We found that out doing our homework and research.
"So for the Middle Eastern version, we have chosen to honour the charity and have the celebrity give them the award. The reason there is a celebrity attached to it is that celebrity attracts attention. If I have an awards' ceremony and I ask Bob Smith to come, nobody's going to show up on my red carpet… but if I invite Brad Pitt to come, it will bring awareness to the whole charity."
Despite the fact Mansoor isn't ready to share details of confirmed guests, she does tell us some of the names that have been invited.
"Middle Eastern-wise we've invited Ragheb Alama, Kazem El Saher, Nancy Ajram, Hussein Al Jasmi, and Yusra – the invitations have been sent out to these names already.
"We've also invited Charlize Theron and Morgan Freeman so we're waiting on a reply from them, so I cannot confirm that they are attending. Morgan Freeman was our lifetime achievement recipient at our Los Angeles event, and he was amazing – a wonderful person. I hope he'll come back."
Representatives from the chosen organisations – which will be confirmed soon – will receive an award sculpture designed by Hollywood star and philanthropist Antonio Banderas, with personal touches to the award added by children. "There is not a selection process. However, every year, eight charities will be honoured, and they will change annually. We do try and target different types, however in order to diversify: education, cancer, environment, children…"
The event is set to feature live performances by regional as well as international artists, and will be broadcast by Abu Dhabi TV, which is apparently helping with the corporate side of things.
"We've been doing business here since 2003, so we know who to call, who not to call, and we know how it works, and when it is a charity, people are eager to help out – we're not making any money out of it.
"It's great to have someone on board who is helping out with the corporate sponsorship side of things."
Mansoor is keen for more individuals and businesses to get involved.
"You can visit the website Thenobleawards.org and contact me if you want to get involved. There has been a study done by the Dubai Chamber of Commerce and 90 per cent of co-operations are not practicing their corporate social responsibility in the Middle East. It is a very high number and very sad.
"So it's about time companies wake up and do this – whether on a small level or high level. We're hoping this awards show creates a campaign to get involved."
Mansoor is also keen to bring another initiative to the region, in the form of 'Cup with a Cause'.
"In the US, we partnered with 7 Eleven for Cup with a Cause. Basically, we bring them a celebrity and that celebrity designs a paper coffee cup for them. In the US, 7 Eleven sells more cups of coffee than the likes of Starbucks – they are the number one coffee seller in the US.
"In return, a minimum of $250,000 (918,375) goes to the celebrity's cause of choice. Our first cup was designed by Nicole Richie and Joel and Benji Madden for the Richie-Madden Children's Foundation," she adds.
"We definitely want to partner with any type of retail outlet in the Middle East, where they get recognition and the charity also gets recognition, thus a win-win situation."
Mansoor said: "My ultimate aim is to have the Noble Humanitarian Awards go down in history like the Oscars; I'd like this to be a legacy I can leave for my children."
Follow Emirates 24|7 on Google News.