Sculptures to adorn Abu Dhabi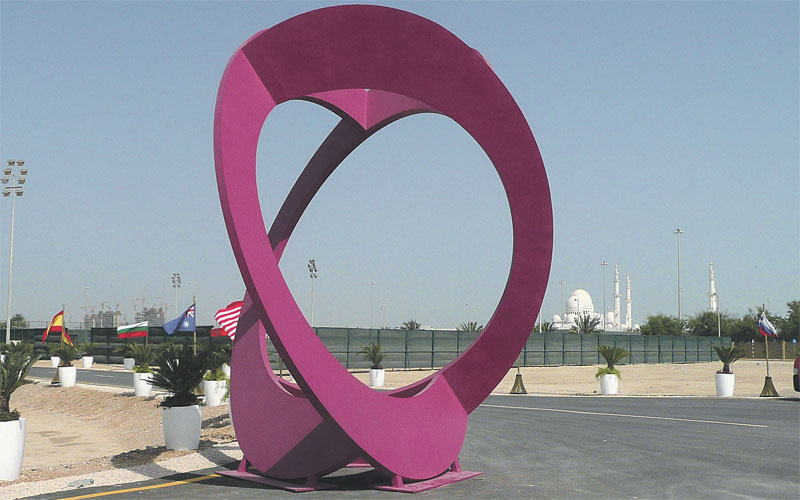 The next time you go to Abu Dhabi, don't be surprised to see huge sculptures around the corniche area.
The capital recently hosted a six-week long Abu Dhabi International Sculpture Symposium (Adiss) during which 17 world-renowned contemporary artists – including Hassan Sharif, Jon Hudson Barlow, Ehab El Labban, Gheorgi Filin, Hwang Seoung Woo and Jo Kley – transformed huge blocks of marble, granite, steel and stainless steel into distinguished pieces of art in front of an admiring public. Now, these pieces will be displayed all over the emirate.
Salwa Zeidan, Artistic Director, Adiss, told Emirates Business: "Until the Abu Dhabi municipality readies the locations in the capital, where the 17 sculptures are to be displayed, they will stay at the park near the Abu Dhabi corniche.
"Later on they will be placed at prominent places all over the emirate where people can see them. Even though the municipality is still to finalise the 17 locations, some of the places where they are likely to be displayed are Emirates Palace, Al Kalam street, Al Arabi street, Al Khaleej street, etc.
"However, the municipality is still studying the places where they would like to install these sculptures and I don't think that they will be able to do so before the end of the year or so as preparing the locations with landscaping will take a long time."
Talking about the future plans for Adiss and the artists who created the sculptures, Zeidan said: "We chose these 17 sculptors among 400 artists who had applied for participation in the Adiss. We kept the criteria very high and only those who had participated in a minimum of seven international-level symposiums were even considered, before we made the final selection.
"We were looking for established artists whose work was known the world over, whose work stood out and who were experienced enough to be able to create a huge sculpture in front of the public in a short period of 40 days.
"However, we also chose one emerging artist from Lebanon, Husam Chaya as we want to promote emerging artists too. For the next symposium, we will choose an emerging artist from another part of the world. But that does not mean we will compromise on quality as we have set very high standards this time and we can only go higher as we give Abu Dhabi the look and feel of the art and cultural capital of the UAE."
1. 'Symphony No.7: Energy of Life'
Artist: Husam Chaya, Lebanon
Details: Mugla white marble for sculpture, Mugla grey and black granite for base, dimensions: 3 x 1.35 x 1.35 metres, base 1 dimensions: 30 x 164 x 164 cm
Concept: This is a cathartic work, and symbolises the passage from shadow into the light
2. 'Energy'
Artist: Jo Kley, Germany
Details: Green Diabas from Turkey, 2.6m L x 1.8m W x 1.7m Height
Concept: Energy is known to travel in a spiral shape. The spiral is a universal artistic intervention of nature. On the microscopic to small scale it manifests itself as the perfect package for hereditary information, as spirilla bacteria or as a snail's shell. Moved by physical powers, a spiral-formed water jet is created or a macro-cosmic construction in which remote stars form a spiral nebula
3. 'Eidolon Elliptical Sphere'
Artist:Jon Hudson Barlow, USA
Details: Mild steel, painted purple. Base in concrete, 6m high
Concept: Eidolon is a Greek word for the Kernel of an idea. This motif is one that Barlow has been working with for a long time in many different permutations. In this particular case, he has changed the format to an Ellipse with a spherical centre
4. 'Sinuous Red'
Artist: Konstantin
Dimopoulos, Australia
Details: Fiberglass composite high performance rods, 7m high x 1.2 diameters
Concept: Sinuous red is a wind driven kinetic sculpture. The work focuses on the simple but elegant and dynamic rhythms of nature. The sculpture reaches upwards creating an immediate sense of awe and scale for viewers.
5. 'Twisting the Void'
Artist: Gregor Kregar, Slovenia
Details: Stainless steel and Base is concrete, 6m high x 5m wide, base is 5 x 5 m x 90 cm high
Concept: The geometric shapes reflect ancient connections between nature and mathematics on one side and are also associated with eco-friendly architecture and design of the 21st Century. Geometry and Mathematics have strong tradition in the Arabic and Islamic worlds
Follow Emirates 24|7 on Google News.