Five questions to...Rainer Vogel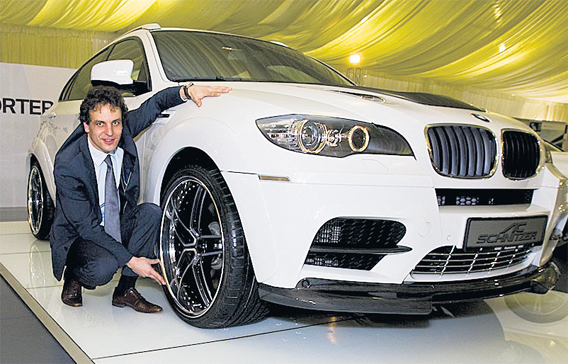 For more than 20 years, AC Schnitzer has been helping BMW owners transform their vehicles into unique motors, modifying everything from the suspension to exhaust and wheels.
The company has had a presence in the UAE for five years but yesterday announced a new partnership with BMW's Dubai importer AGMC at Automodex – Dubai's first high performance and tuning motor show – being held until Friday at Dubai Autodrome.
Following the announcement, we spoke to the owner of AC Schnitzer, Rainer Vogel, to find out more about its new venture.
Can you tell me more about the X6M, which you also unveiled at the show yesterday?
The X6 is already a unique car; it's not only an SUV but also combines a sports car in one vehicle and drives very much like a driving machine. What we showed is a very special model, which has a new look. The wheels match the bigger power, while the suspension and exhaust are also different. It's difficult to describe but it's a whole new car.
How did the tie-up with Dubai's BMW importer and dealer AGMC come about?
We had a partner in Dubai for many years but it wasn't working for either side and it wasn't what we wanted. As AGMC is the importer, it is a good choice for us. It's taken a long time to do and we've talked a lot over the years but we feel this is a good fit.
It's a partnership concentrating on making cars more innovative. We've been in the worldwide market for 22 years and have more than 2,000 products for BMW and Mini from engines to suspension and wheels, and all the parts together make the car. It makes the car not only look better but drive better so it's a lot more fun.
You already have a dealership in Abu Dhabi so is this expansion a sign of a growing local market?
Abu Dhabi is not far away from Dubai but we felt that to service customers well we had to come to them. We also wanted to have a car on display for test drives. We will keep our partnership with Abu Dhabi Motors but this allows us to better service more customers.
How much are you investing in the venture?
Investment is not something we are talking about.
Does tuning add value to a car?
When you talk about cars, the 7 Series and X6, they are always in demand. We approach the market in two different ways.
In our philosophy, it's possible to create a new car with one part but you can also build it up to a new car with lots of different parts. It's up to the customer what they do but the most successful upgrades are done on aerodynamics or suspension as they provide a new driving experience.
When modifying a car it's important not to select many different parts as it will be difficult to sell. However, if a customer builds a car with parts from one brand it will keep its value, and demand can be high. But when a customer builds a car from many different brands, they are very
Keep up with the latest business news from the region with the Emirates Business 24|7 daily newsletter. To subscribe to the newsletter, please click here.
Follow Emirates 24|7 on Google News.