Hospital helps patient with artificial eye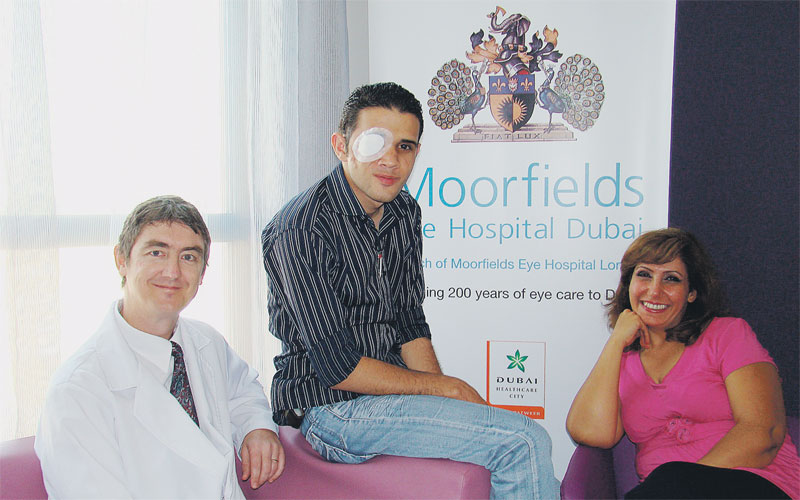 A hospital in Dubai has successfully fitted an artificial eye on a Palestinian patient.
Bahaa Salim, who lost his eye six years ago, has been in Dubai since January 2010 for additional surgery to finalise preparations for the fitting, which was performed by the Ocularist, or artificial eye maker based at Moorfields Eye Hospital.
Salim, who was brought to the emirate by the charity Palestine Children's Relief Fund (PCRF), had already undergone substantial reconstructive surgery to his eyelid.
The Palestine Children's Relief Fund is an international NGO that has sent dozens of injured children to Dubai over the past two years for medical care that is not available to them in their homeland.
Before the operation and fitting of the artificial eye, Bahaa had no eyelids and his eye socket was closed.
Paul Geelen, the Ocularist created the orbit (eyeball shaped prosthesis), carefully shaping and sculpting the prosthesis to fit in the eye socket and he then took about one working day to paint and match the artificial eye, which fits over the new eyeball, to the remaining natural eye.
"It is a challenging process because there was a lot of trauma around the eye and surrounding muscles and the socket was not very forgiving, so we have to be very precise in our work. It is not yet a natural look but is a big improvement from three months ago and he should soon be able to wear tinted spectacles and feel more comfortable with his appearance.
"The first time I saw Bahaa, he had no eye socket at all and now an artificial eye has been fitted, we will start to see much greater and faster improvement," he said.
Dr Andrea Sciscio, Consultant Oculoplastic Surgeon at Moorfields Eye Hospital Dubai, said: "Bahaa has made excellent progress and the surgical procedure we performed in January has proved successful and allowed us to fit the artificial eye. We will monitor Bahaa's progress and the healing process to ensure that Bahaa has the best cosmetic result achievable."
Salwa Dajani, whose family has taken care of Salim during his stay in Dubai, said her family first made contact with the PCRF through her children's school in Dubai.
"He has become close friends with our own three children now. We are very happy for him and eager for him to have a good result from the treatment and be able to return to his homeland, with his new eye. He will need three to six months healing but we are seeing real improvement."
Follow Emirates 24|7 on Google News.