Satellite technology now connects Nepal's interiors to specialist doctors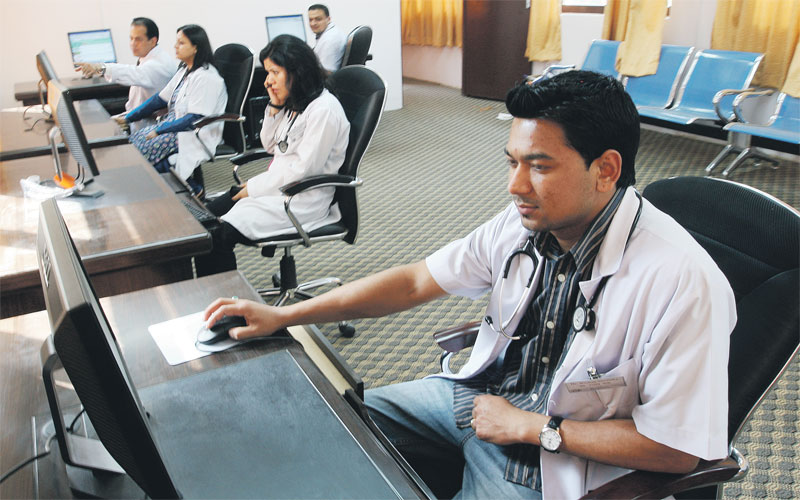 Patients in rural Nepal will soon be able to consult specialist doctors over the internet as part of an innovative scheme to improve health care in remote areas of the Himalayan country.
Over the next few weeks, the government will begin connecting 25 district hospitals, most of them located in the rugged and inaccessible Himalayas, to specialist consultants in the capital Kathmandu using satellite technology. The 30 million Nepali rupee (Dh14.68m) project is the first of its kind in Nepal, where millions of people live in small communities with no road connections and several days' walk from the nearest hospital.
The scheme is the brainchild of doctor Mingmar Sherpa, who for 24 years ran the main hospital in the Everest region in eastern Nepal, where he experienced at first hand the difficulties faced by health practitioners in rural areas.
"Most people in Nepal live in remote villages where harsh weather conditions and geography make access to healthcare difficult," said Sherpa, 56, now director of logistics at the health ministry in Kathmandu.
"It's very hard to get specialists into those districts – mostly they want to remain in the city, or even go abroad to work. Even getting skilled birthing attendants to work in such places has proved a challenge," he told AFP.
"So the health ministry decided it was worth trying telemedecine, which is already quite advanced in other South Asian countries such as India," said Sherpa.
Impoverished Nepal has made significant progress in health care in recent years, reducing maternal and child mortality rates and increasing life expectancy.
In 2007 the government endorsed health care as a basic human right in the constitution, introducing a policy of free treatment for the poorest and most vulnerable. But development agencies say nearly one in four people in Nepal still has no access to even basic health care.
Sherpa came up with the idea of introducing telemedecine five years ago, but at that time, Internet connectivity in Nepal was still too weak for the scheme to work. Now, under his supervision, the health ministry has set up high-speed internet connections in 25 hospitals, using satellite technology to provide sufficient bandwidth for videoconferencing.
Local doctors will log their patients' notes online along with any X-ray or ultrasound images and lab tests, ready to be examined by specialists in Kathmandu – a system known as "store and forward".
Doctors at the Patan Hospital on the outskirts of the capital will devote two hours a day to patients in outlying areas under the plan, which will also allow rural health workers to receive training using videoconferencing.
Sherpa says the system will allow common diseases to be diagnosed much more quickly than at present, and enable post-operative patients to receive follow-up treatment without having to travel to the capital.
Under the scheme, doctors in Kathmandu will in turn be linked up with consultants known as "super-specialists" working in 12 hospitals across India to give them access to further medical expertise when needed.
The government is also setting up a toll-free telephone line offering health advice to people living long distances from the nearest doctor.
It is a major leap forward in a country where as
little as 20 years ago, most people still relied on local shamans or witch doctors if they fell ill.
"Telemedecine sounds very technical, but it is really just using technology to treat patients, whether it be mobile phones or the internet," said Sherpa, who hopes the scheme will eventually extend nationwide.
"Once we are on the right track, we will start adding more districts and expanding into rural health posts. This is just the beginning."
Follow Emirates 24|7 on Google News.