Even Gandhi comes at a price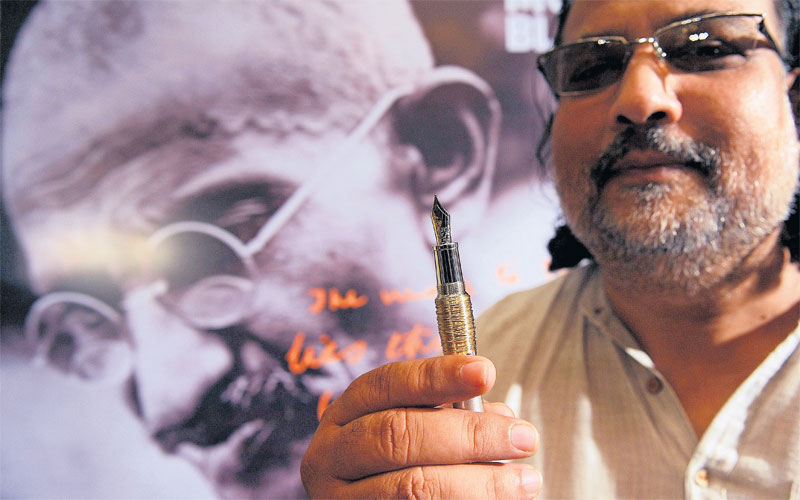 The Beatles removed Mahatma Gandhi's picture from the 1967 album cover of Sgt Pepper's Lonely Hearts Club Band in case it upset Indians, but such restraint is now a thing of the past.
Today, Gandhi memorabilia is auctioned off in New York and London with his scant personal possessions attracting sky high prices, while his image is used on pens, billboards and souvenirs.
"People want to buy every piece of history associated with the great man," said Tushar Gandhi, the great-grandson of India's independence leader. "Anything with a 'Gandhi' tag sells, and India has not been able to protect the items belonging to the father of the nation."
The auction in the United States last year of Gandhi's glasses, leather sandals, pocket watch, metal plate and bowl triggered a major public debate over exploitation of his memory.
The Indian government first tried to prevent the auction and then seemed ready to buy the items itself, before Indian industrialist and liquor baron Vijay Mallaya stepped in with a winning bid of $1.8 million (Dh6.6m).
Indian-origin British businessmen Ghulam Noon and Nat Puri last year paid $26,000 at an auction in London for letters written by Gandhi and a piece of cloth signed by him. Both handed the items over to India.
For many Indians the contrast is stark between Gandhi's simple, anti-materialistic lifestyle and the commercial frenzy over his paltry belongings and saintly image.
In South Africa, a house Gandhi lived in sold last year to French tourism company Voyageurs du Monde for $377,000, far above the norm for a small house with a thatched roof in Johannesburg. Gandhi only occupied it for a few years, but the firm plans to open the building as a museum and guest house.
In one recent row, luxury brand Montblanc in February suspended sales of a limited-edition,"Gandhi" pen, launched to supposedly mark the anniversary of Gandhi's 1930 protest march from Ahmedabad against the British salt tax, a key episode in his campaign for independence.
Montblanc hoped that the pen "honouring" Gandhi would help it tap into India's wealthiest brand-conscious consumers, but instead it ended up in court over laws that say government permission is needed to use Gandhi's image. The pen, which had an engraving of Gandhi on the nib, was withdrawn from sale in India and Montblanc issued an apology.
Contrastingly, there has been only a murmur of disapproval over promotional billboards in New Delhi that show Mahatma Gandhi apparently in close conversation with Rahul Gandhi, the 39-year-old scion of the Nehru-Gandhi political dynasty, which has no relation to Mahatma Gandhi.
India's ministry of culture say it is preparing further legislation to prevent Gandhi's belongings being traded for money and to protect his image from being misused.
"We want to pre-empt any auction of Gandhi items. Selling or buying these heritage articles should be illegal but sadly most of the items have already changed hands," an official said.
The reality is more complicated, Gandhi experts point out. "These modest objects have now become part of global economy and one should stop being hysterical about them," said Tridip Suhrud, a Gandhian scholar. "If India starts buying all collectibles of Gandhi then it will be forced to pick up relics of other leaders, freedom fighters and erstwhile kings. The list is long".
Follow Emirates 24|7 on Google News.