Five questions to ...Abdul Wahid Al Ulama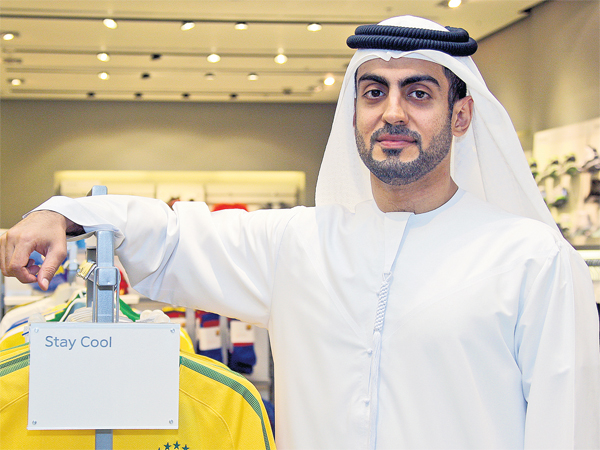 As the retail arm of Dubai World, Retailcorp World has had a difficult time of late but continues to push ahead with its planned expansion, including opening a new Nike store and its flagship Go Sport outlet in Mirdif City Centre (MCC) this week. The company has four divisions; shopping malls; Retailcorp brands; Hypercorp (Auchan Hypermarkets); ad Retailcorp Brands South Africa, and owns Ibn Battuta Mall, along with various fashion franchises including Burberry.
Emirates Business spoke to Executive Vice-Chairman Abdul Wahid Al Ulama after the ribbon cutting at MCC to find out more about his plans.
What is it about Mirdif City Centre that encouraged you to go for expansion?
The retail business is a game of economy of skills. The more you expand, the more you cover your expenses. The market has turned around and we have seen an improvement in the first few months of 2010 over last year in terms of footfall. The shopping festival was also more happening for us this year. We have a strong hold in the sports business and we have done very well in that part of Dubai but we have to expand and this mall is on the other side of the city from Mall of the Emirates and Ibn Battuta so we have to be in it. The access is fantastic and the geographical location is very good.
Why have you chosen MCC as your flagship location rather than Ibn Battuta, which is part of the same group?
Ibn Battuta is our own mall and the space has been in place for a while but it's all about geographical location. Ibn Battuta's footfall has gone up compared to last year, which, considering The Dubai Mall has opened, is very, very good. This is our gateway to the rest of the emirates and we will be catering to a different clientele as there will be more locals and Arabs shopping at this mall due to its proximity to the Northern Emirates.
As a member of Dubai World, has the current financial crisis affected your business?
It's a difficult question to ask and answer. It's made us a more focused company and made us look at the profitability of everything. We don't have the luxury of expanding for the sake of it. The numbers have to stack up but even though we are more focused, the business continues as usual. If it's changed, it's changed for the better because we have advisors and it's good to have a second view. It's better for the company.
Are you looking to grow your business outside Dubai?
Dubai is about retail and it's definitely where you want to be and I think the people who have the buying power come here even if they reside in other emirates but if something interesting comes up, we will look at it and Ras Al Khaimah is on my mind as an area we need to look at in the future.
What other plans do you have for the future?
We are opening another Nike store in Abu Dhabi but otherwise we will see how it goes. We are always on the look out for new locations. We are doing well but we can always improve our business. I think the future will be good and hopefully in terms retail we are over the worst part of the recession.
Follow Emirates 24|7 on Google News.