Helping aspiring Formula One drivers get up to speed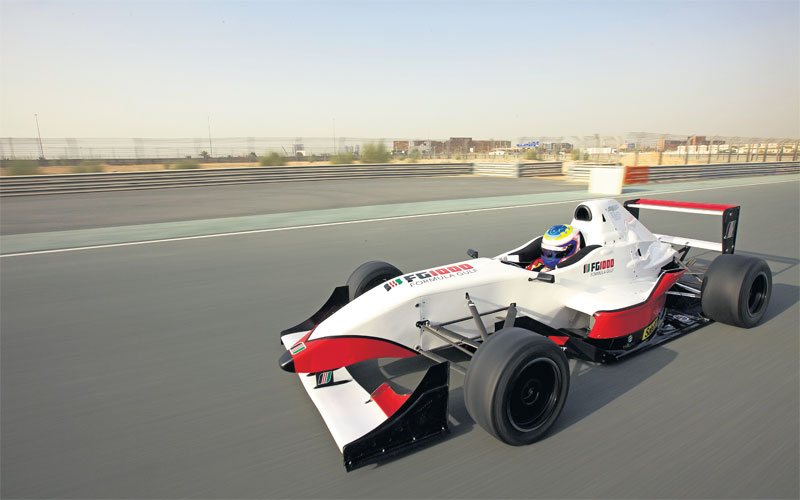 Driving the new Formula Gulf 1000 car may be as simple as steering a motorcycle on four wheels.
Launched in the UAE on Monday as the first step in the ladder to aspiring Formula One drivers in the Gulf, the race car uses a motorcycle engine, according to its designer Ralf Firman.
"It is a relatively new format. It is very light and they really have good power. The regulations for Formula allow for good concept on aerodynamics and mechanical grip. And it's an interesting car to drive," said Firman who has more than three decades of experience in the business of manufacturing racing cars.
"It reflects the concept of high performance which is good for young drivers to begin their career or begin racing as they enjoy it. It's a very exciting little car to drive," said the director of RFR (Ralph Firman Racing), the founder and driving force behind Van Diemen Racing's success as the global leader of volume race car manufacturing for three decades until its sale in 1999.
"I retired 10 years ago after selling Van Diemen Racing to some American people. But then I found out I could not retire. I needed something to do. And I looked at this concept of car and it excited me to build one," he said when asked about the evolution of FG1000. "It is quite a technical little car from a design concept, design wise and development," said Firman who set up RFR early in 2008 to cater to the club racing enthusiasts and the same volume car market which he dominated throughout the 1970s, 80s and 90s.
As with race drivers and race teams, there exists that same competitive element among the car manufacturing fraternity which has unfortunately been diminished over recent years with the onslaught of the one-make series adopted by clubs and organisers around the world.
However, the new and exciting Formula 1000 class introduced in the United States and open to all manufacturers, inspired Firman to re-enter the fray by founding RFR and building a new car.
Gathering together many of the talented individuals of the Van Diemen era, from engineering, purchasing and manufacturing, a programme was devised to produce a totally new and radical car for the developing series. With in-house machining coupled to fabricating and bodywork facilities in adjacent units, this first car was built on schedule and tested at Brands Hatch, a motor racing circuit in Kent in the UK, at the beginning of October 2008.
The company has now committed to a new F2000/ Formula Continental car based on the design concept of the F1000, and this new car will be available early in 2010 following the prototype testing.
"It's won races in America on both sides – West coast and East coast which is mainly where it is being sold currently from that perspective," said Firman.
"It is a nice concept. I enjoyed building this car."
Estimated to cost £25,000 to £30,000 (Dh140,400 to Dh168,48), the designer said FG1000 is cost effective relative to performance.
"For the performance of the car, it is about the cheapest car you can buy really. You can buy cheaper cars. But cars with performance, proper handling and what have you for $50,000 to $55,000 is difficult to imagine," he said.
"It is about the level of karting formula for anybody coming into motor racing. It has a 1000cc engine or 170bhp. Because the engine and transmission is quite light, you got the ratio of power equivalent to a Formula GP2 car or even Formula One. "Not quite to a Formula One but the acceleration and braking because of the power to grid ratio reflects it's an exciting car to drive," he added.
He endorsed it as an ideal stepping stone for budding racing drivers to graduate from karting in an age when kids start karting at age six and racing Formulas cars at 16. "In handling characteristics and driver drivability it's an ideal training car for drivers to go up the ladder into higher Formulas," he said.
Motor racing may be for young men and women but this car is not only for young drivers, according to Firman.
"It is an exciting car to drive for older persons who just enjoy motor racing like they enjoy horse racing, golf or whatever," he said.
Indeed even 14-time Middle East Rally champion Mohammed bin Sulayem was impressed with the characteristics of the car and was seen discussing animatedly with Firman at the launch.
"It is a nice car," said bin Sulayem who was amazed to find out that it had a motorcycle engine.
- All FG1000 cars will be maintained and run by the GulfSport Racing team, the Dubai-based motorsport products and services company. Drivers who wish to participate in the FG1000 championship can log on to www.FG1000.net
Follow Emirates 24|7 on Google News.