The new Honda CR-V is put to the test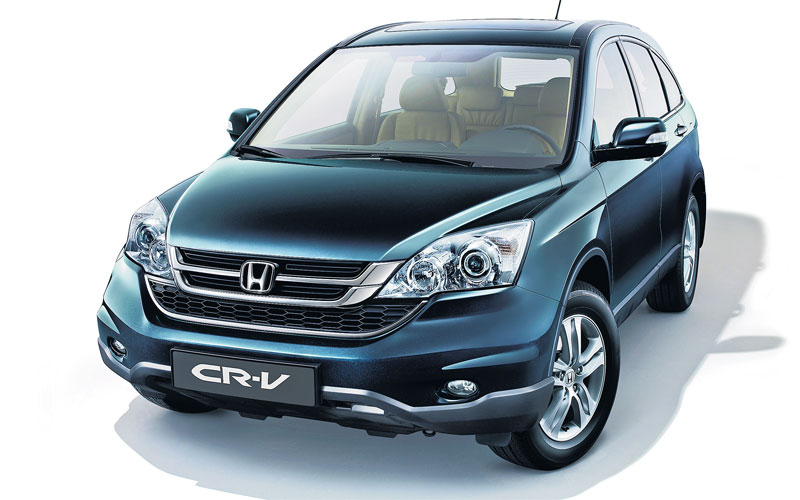 As compact sports utility vehicles go, there is no denying the Honda CR-V its well-cemented standing at the top of this increasingly growing segment.
The affordable, urban, entry-level, crossover SUV market has proved quite resilient and continues to attract executives and families alike. With nearly a dozen manufacturers competing in this space, it's always intriguing to watch how creative their teams get at pitching their uniqueness or 'what makes them better'.
There are those that claim more power for your buck, some offer more ruggedness, others talk of better fuel efficiency, a few tout design and some stick to confusing would-be drivers with high-tech jargon that should read: 'We have something to sell. We don't know what you're going to fall for so come take a look and let us know'.
This is where Honda has positioned its comfortable runabout vehicle (CR-V) sublimely. Its four-cylinder engine is far from the best in this power-driven segment. Its suspension is not built for even 'soft' off-roading. Its fuel efficiency is par-for-the-course and its design has more critics than lovers. The one thing it does not do, however, is flood your media with nonsensical auto jargon. Their pitch is clear; this is an urban vehicle. One designed to give you all the comforts of a smaller SUV with the feel of those sedans you've been so used to driving. And this is where it triumphs. When you factor all the kinks you're looking for in your compact SUV, you're almost always inclined to narrow in on this unassuming vehicle. And Honda knows this.
In a market that thrives on dishing out new variants of every available model every year, I was quite curious to see what changes the 2010 CR-V team would deliver. I spent a while staring at it when it arrived and to be quite honest, didn't notice much except for a few changes to the front and rear bumpers and the front grill. Oh, and it has new 10-spoke 17-inch alloy wheels. There was something new to the hood, and as I unsuccessfully spent precious seconds attempting to establish the change, I was overwhelmed by disappointment that the nose hadn't received a design overhaul.
Shrugging off the exterior's minor aesthetic touches, I climbed in to comb the interior. Fortunately, the updates were more clearly visible and more importantly, updates had been made. The centre folding armrests are slightly wider (+30mm) and longer (+20mm). Inside trims have been given a classier look. The LCD display is now blue. The centre console offers an auxiliary jack for audio and video players and the glove box comes fitted with a USB jack too.
Very well then, time to step on the gas and see what this SUV poser can do. It's peppier at the start and when you're changing lanes. But once it gets cosy after long stretches at maximum permissible speed limits it throws quite a tantrum at being pushed harder. It's designed to power through city streets, not highways, so you'd better behave.
Honda is quite excited about their speed sensitive volume control that automatically adjusts system volume to cabin noise, but I personally find it quite annoying. Given that steering controls and every other control a driver could possibly need are so effortlessly situated, I don't need some hidden control turning down ole Blue Eyes Frank Sinatra rendering Mack The Knife as I make it onto a slip road and into the parking of my mall. Maybe, just maybe, I was looking to show them mobile Hip-Hop boom boxes off with a blast of the strings and horns that make the standard such a delight.
Chores completed, plastic bags gathered and lugged to the vehicle, I popped the boot to be greeted by a double-deck cargo which was much needed. It's rather practical and should really become a standard for all larger vehicles.
Driving after sunset, you appreciate the auto dimming rear view mirror, which eliminates distraction due to lights flashing from behind. All taken into account, I had a hassle-free time with the CR-V. The family enjoyed the fined interiors and the car handled remarkably well. It's not a big leap from its predecessor and is quite literally an update, but it remains the best compact SUV money can buy.
The rivals
Toyota RAV4
The CR-V's biggest rival is better priced but gets more expensive as you load options. Better fuel efficiency, but not the best in class. Price: Dh79,500–Dh119,500
NISSAN XTERRA
Perfect off-roader with more powerful engine and cargo space.
Guzzles gas and loses out in the more urban requirements. Price: Dh100,000–Dh115,000
KIA SPORTAGE
A poorer cousin to the CR-V and RAV4 but still serves as an option for first-time compact SUV drivers. Price: Dh56,900–Dh72,500
Follow Emirates 24|7 on Google News.