Eight hurt in bomb blasts at Indian cricket stadium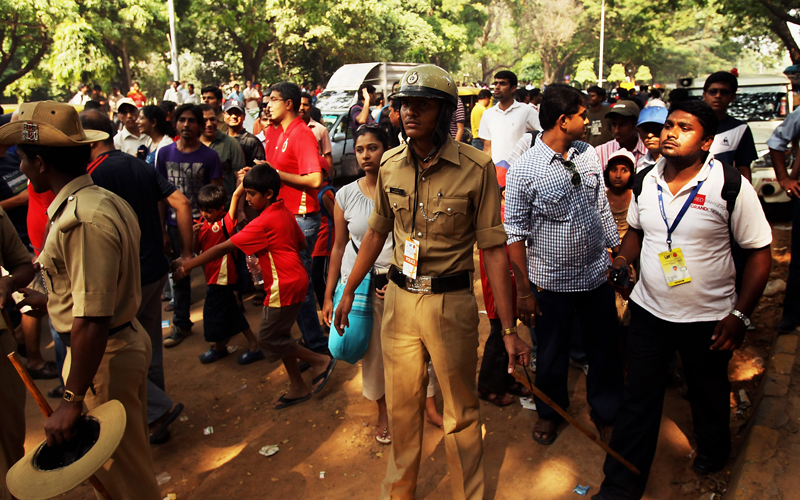 At least eight people were hurt Saturday when two bombs exploded at a cricket stadium in the Indian city of Bangalore, sparking panic among fans and stoking security fears ahead of the Commonwealth Games.
The explosions, which occurred as spectators were streaming into the stadium, came amid heightened fears about security at sporting events in India, which is scheduled to host the Commonwealth Games in October in New Delhi.
A third small bomb which had failed to explode was later found on the roof of a ticket counter at the stadium as police combed the venue with sniffer dogs, said police inspector K Raghuram said.
Police commissioner Alok Kumar described the explosions in the southern IT hub as "two low-intensity blasts", adding an earlier generator blast which hurt three other people at the same site was an accident caused by a short-circuit.
"They were crude bombs," Kumar said, adding police were investigating the bomb blasts and no claims of responsibility had been made.
One of the bombs exploded at a gate at the 40,000-seat Chinnaswamy stadium, and sent bricks from a wall flying into the air.
Two policemen and a private security guard were in intensive care for head injuries but were not in any danger, Nancy Jennifer, a doctor at Mallya Hospital in Bangalore
A third policeman and a fan were also in hospital but not in serious condition, she said.
Three other people received minor injuries, all from the same explosion.
"It seems the explosive material was hidden in a plastic bag and placed near the wall" close to the gate, another senior police official, Shankar Bidari, told reporters.
Police reported no casualties from the other explosive device, planted 500 metres (1,500 feet) diagonally from the stadium.
The blasts came after the US State Department warned Friday in a travel alert about "ongoing security concerns in India" and said the US government "continues to receive information that terrorist groups may be planning attacks in India."
Three policemen were hurt when the generator, being used to power the stadium floodlights, exploded just before the two bomb blasts, police said.
The blasts sparked panic among thousands of spectators getting into the stadium for the match, where the Bangalore Royal Challengers were taking on the Mumbai Indians in the Indian Premier League Twenty20 tournament.
"I heard a loud noise when I was in the queue to enter the stadium. I saw police cordon off the area. There was panic initially and people ran helter skelter," said engineering student Hem Chander.
In New Delhi, Home Secretary GK Pillai said a low-intensity explosive was used in the blasts, which delayed play by about an hour.
Karnataka Home Minister VS Acharya said the blasts appeared to be a "mischievous attempt" to create panic and alarm, rather than cause widespread carnage.
Once the game started, fans shrugged off their alarm and began cheering the teams which have a number of international players in their ranks including England's former captain Kevin Pietersen and South Africa's Kieron Pollard.
Security had already been heightened for sporting and other events in India after a restaurant bombing in the western city of Pune in February which killed at least 16 people - the first big militant strike since the 2008 Islamist attacks on Mumbai that killed 166.
India is worried about the possibility of Islamist attacks being launched from the soil of historic rival Pakistan, which New Delhi alleges has dozens of militant training camps operating on its territory.
New Delhi has demanded that Islamabad control the "terror machine", accusing Pakistan of refusing to crack down on militant groups which could target the Commonwealth Games and other high-profile events.
However, Pakistan's civilian government has won praise overseas for stepping up action against homegrown and Afghan Taliban militants.
Follow Emirates 24|7 on Google News.