Abu Dhabi desert maiden: Katrina goes 'Bang Bang' for Ranveer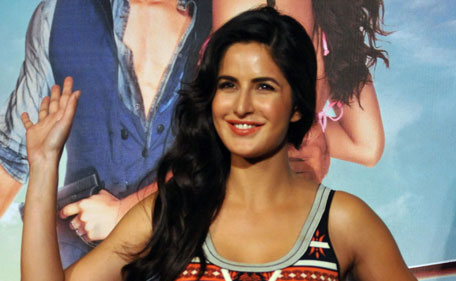 Katrina Kaif confesses to feeling the jitters as the adrenaline-charged 'Bang Bang' comes up for release this Thursday.
However, the actress sounds anything but nervous as she described the 'crazy' stunts she pulled off on an Abu Dhabi highway, in between luxuriating in the desert sands of Qasr Al Sarb in the Rub Al Khali or The Empty Quarter of Liwa.
In a chat with Emirates 24|7 the 31-year-old said: "I am nervous. Its 2.5 years of hard work that has culminated into this final product. The prints have already gone out and we have done what we could. My only appeal to my audience is to be kind to our efforts and appreciate what we have put before them."
Indian Bollywood actress Katrina Kaif participates in a promotional event for the Hindi film 'Bang Bang!' in Mumbai on September 20, 2014. (AFP)

Directed by Siddharth Anand, 'Bang Bang' also stars Hrithik Roshan in the lead and is the official remake of the Tom Cruise-Cameron Diaz starrer, 'Knight and Day'.
Talking about playing the Indian version of Hollywood A-lister Diaz, Kaif said: "Of course, I've seen 'Knight and Day', but my character is very different from what Cameron plays in the film. I think a lot of my personality and what I bring to Harleen Sahni shines through."
The film has been shot across seven locations, with a crucial chase sequence filmed in Abu Dhabi featuring a bike stunt and a spin through the capital's streets in a F1 race car.
Indian Bollywood actress Katrina Kaif participates in a promotional event for the Hindi film 'Bang Bang!' in Mumbai on September 20, 2014. (AFP)
Kaif further revealed: "Some of the stunts are just crazy. In Abu Dhabi, we filmed the bike chase on the desert highway that you see in the trailer. Plus, we also shot in the Qasr Al Sarb desert resort, which doubled up as the bad guy's lair in the film.
"Everything about the Abu Dhabi shoot was pure luxury. I have always loved this city, where you even have the comfort do your own thing without anyone troubling you."
Kaif, who previously claimed that the shoot of 'Dhoom 3' pushed her to the limit when she performed aerial acrobatics in the song 'Malang', confessed that she has also done most of the stunts on her own in 'Bang Bang'.
Quiz her if she is a borderline adrenaline junkie and Kaif said: "I wouldn't really say that. 'Dhoom 3' required me to push myself for the song 'Malang' and the only reason I did that was because dance is a passion of mine and I didn't want that integrity to be lost with a body double in the song.
"'Bang Bang, meanwhile, was a fun ride and the stunts really weren't that difficult to perform with all the safety precautions in place."
As the 140-crore Fox Star Studios release reaches its final 24 hours to hit UAE screens, Emirates 24|7 shoots off a 'Bang Bang' rapid fire as Kaif is put to the test:
Indian Bollywood actors Hrithik Roshan (R) and Katrina Kaif participate in a promotional event for the Hindi film 'Bang Bang!' in Mumbai on September 20, 2014. (AFP)
-What if Hrithik throws a 'Bang Bang' dare at you to join social media? Are you ready to join Twitter for the cause?
KK: Thankfully, no such 'Bang Bang' dare has come my way. Truthfully though, I need to find time and have the desire to join social media in some form. I guess I am so busy pursing my passion for acting that I haven't done it so far.
-What did you think of Raveer Singh's crazy stunt of dancing on busy Mumbai street in response to Hrithik's dare?
KK: I loved it! Ranveer was such a good sport about it. He's the only one who can really carry of such a stunt. He's crazy enough to do this with no inhibitions. I think the whole 'Bang Bang' dare challenge is a very innovative way to promote the film in the spirit it is meant to be seen in.
-After playing Cameron Diaz in Bollywood, is a full-fledged Hollywood film next on the cards?
KK: It is hard to break into a new industry and start your career from scratch once again, or trying to prove yourself to a different audience. I have spent years working very hard in Bollywood and that's where I will stay I think.
Follow Emirates 24|7 on Google News.