Exclusive: After Aishwarya Rai, Salman Khan hunts for home in Dubai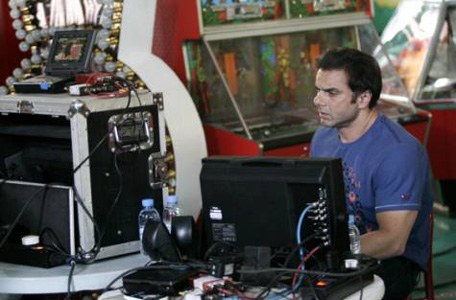 Bollywood is going places and so are its denizens. Movie stars, who often end up staying away from their homes for most part of the year, have now started investing in properties abroad.

So have you ever dreamt of bumping into a movie star in your neighbourhood in Dubai? If so, than your dream may come true.

Dubai happens to be Salman Khan's favourite city. And now it seems he might just get himself a home here.

Talking exclusively to Emirates 24|7, Salman's brother Sohail Khan, who is here to shoot for his movie 'Mental' said they are interested in Dubai property.

"We are looking, in fact we have been looking for some time, it's just that this whole year we have been tied up and yeah we would love to buy a pad in Dubai, it's anyway just two and half hours from Mumbai," said Sohail.
Bollywood actor Salman Khan shooting in Dubai. (Twitter)

Sohail reiterates, "For a second home it's beautiful, safe country to live in. As a holiday home you feel safe with the children, you feel safe with your family.

"And the security is amazing, the food, the people and the place is beautiful. But I always say that it's the people which make the place. And the people of Dubai are beautiful."

It is rather surprising that the Khan family is yet to invest in property in the emirates considering it's one of their favourite destinations be it for holiday, shooting or even playing cricket. After all Celebrity Cricket League team Mumbai Heores owned by Sohail Khan has declared UAE as their home ground.

Sohail explained saying, "It has (investing in Dubai) has crossed our mind, we will just have to find the right place where we would like to invest, where we would like our home to be. Fortunately or unfortunately Dubai has got so much variety to offer that you get confused where to and what to buy."

If you thought the brothers are not doing the real ground work, you are wrong.

Sohail further explained what has been holding them back, "For years now we have been property hunting, whenever we come we see something nice, but people tell us 'no wait there's something better coming up'. So in Dubai after every four months there's something better coming up."

"Mumbai is always going to be our home, I mean we are all born and brought up in Mumbai but Dubai is some place we would love to visit. And we have lot of friends in Dubai from school, college who migrated to Dubai and they live here. So when we come here we don't miss Mumbai that much. So it's a close connect."

We are certain the Khan family won't miss living in the glitzy Mumbai lanes as they have many other Bollywood stars for company.

Actor Shah Rukh Khan has a villa in Palm Jumeirah, an exclusive man-made island off the coast of Dubai.

The "Bollywood" celebrity couple Abhishek and Aishwarya Rai Bachchan has a luxury villa in the prestigious Sanctuary Falls, a resort-style villa community within Jumeirah Golf Estates.

We hope Salman and Sohail soon join the party and the ranks of other celebs who own property in Dubai including David & Victoria Beckham, Angelina Jolie and Brad Pitt.
MUST READ:
No gifts for Jennifer Aniston and Justin Theroux's March wedding
Aishwarya Rai, Salman Khan may visit Shah Rukh in New York...
Bye bye Justin Bieber, Selena Gomez wants to find love
Follow Emirates 24|7 on Google News.