Amitabh impatient for Aishwarya Rai and Aaradhya at Cannes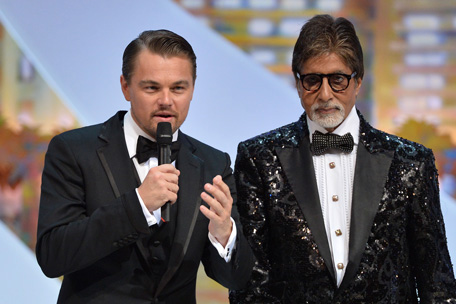 The Cannes film festival conjured up the "Roaring Twenties" on Wednesday with a glamorous opening night premiere of Baz Luhrmann's "The Great Gatsby", complete with dancers in flapper dresses on the red carpet and umbrellas to keep off the rain.
The cast of "The Great Gatbsy" arrived to loud cheers, while Bollywood veteran Amitabh Bachchan, making his Hollywood debut in the film, sparkled in a black sequined dinner jacket with a polka dotted bow.
Quite out of place amid the more sober attire of the other male stars and directors but he braved a smile and there was more than one reason to be happy.
Amitabh Bachchan alongside Hollywood idol Leonardo DiCaprio declared the festival open.
Mr Bachchan, an avid blogger, wrote on social networking site, "The honour and respect meted out by Cannes, incredible. Announcing suddenly for Leonardo di Caprio and myself to open the Festival!"
"With the entire world film fraternity at Cannes, applauding and welcoming our presence, treating us like Royalty .. its emotional!"
Overwhelmed by this gesture Bachchan grabbed the oppurtunity and spoke a few words in Hindi for the folks back home.
He tweeted, "For a complete alien in the midst of Cannes to be acknowledged, is the proudest moment for me as an Indian .."
"On stage with Leonardo to officially declare Cannes Festival open, and tribute to 100 yrs of cinema in India - a time in history!!"
"Acknowledging Cannes in recognising 100 yrs of Indian Cinema, it was absolutely imperative for me to address, in my Mother tongue!"
Aishwarya Rai Bachchan will be making her 12th consecutive appearance this year. She will also be the guest of honour at a special evening celebrating 100 years of Indian cinema at Cannes on May 19, besides walking the red carpet on May 20.
Her father-in-law Amitabh Bachchan wrote, "Media tomorrow, and then wait for the 'bahurani' (daughter-in-law) to arrive with 'bitiya' (granddaughter), meet them and get on plane back to London and then home!! [sic]."
Looks like it's going to be a family re-union of sort for the Bachchans at Cannes.
India is the guest of honour this year in order to celebrate 100 years of Indian cinema.
Two noted Indian actresses, Vidya Balan and Nandita Das, are part of two separate juries. Sonam Kapoor was also at the opening ceremony as part of Bollywood.
The opening night kicks off a busy schedule of premieres, champagne parties and celebrity spotting along Cannes' chic waterfront Croisette, with Michael Douglas, Matt Damon, Ryan Gosling, and Emma Watson among big names in town this year.
Cloudy skies did not deter badge holders and passers-by from cramming cafes around the main festival building, while dozens of gleaming luxury yachts in the nearby harbor prepared to welcome their wealthy guests.
From Thursday, the focus will shift to hundreds of other films screening at Cannes, while up to 40,000 film professionals will seek to snap up titles on the bustling movie market that has become a key to the festival's success.
Follow Emirates 24|7 on Google News.